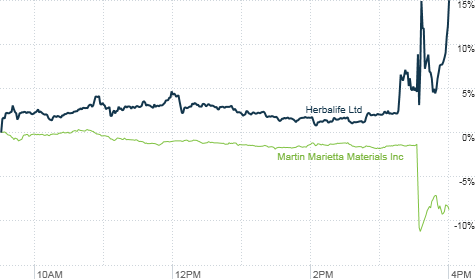 Greenlight Capital's David Einhorn failed to mention Herbalife, which sent shares up, but his criticism of Martin Marietta Material caused its shares to crater.
NEW YORK (CNNMoney) -- Noted short-seller David Einhorn targeted Amazon and Martin Marietta Materials on Wednesday but was curiously silent on Herbalife.
The hedge fund manager's opinion on a given company can send the shares plunging -- or soaring.
Shares of Herbalife (HLF) surged simply because he didn't mention the firm in a presentation at the Ira Sohn Investment Conference in New York. His comments earlier this month on the direct retailer contributed to a sharp sell-off.
Martin Marietta Materials (MLM) was not so lucky. The building materials company was the first that Einhorn mentioned at the conference. His negative comments sent shares tumbling 8% into the close.
He also sharply criticized Amazon (AMZN, Fortune 500), but its stock was more resilient.
The Greenlight Capital head said Martin Marietta's earnings could soon face pressure because of a heavy reliance on U.S. stimulus money, which will end soon. He said investors typically value companies supported by federal funding at a discount, but believes that aspect hasn't been factored into Martin Marietta's stock.
In his takedown of the company, Einhorn criticized its CEO's excesses and cited its failed bid for competitor Vulcan Materials (VMC).
Investors expected Einhorn to come out swinging against direct retailer Herbalife, after his comments on a May 1 conference call sent the shares down 39%. But he was silent on the company, and that alone sent shares up 17% into the close and even higher after hours.
Curiously, Einhorn's mention of Dick's Sporting Goods (DKS, Fortune 500) sent its shares down, even though he didn't explicitly criticize the company. He merely compared its sale of sporting goods to Amazon's online sales.
Meanwhile, Einhorn's attacks on Amazon were overtly hostile, as he mocked its CEO Jeff Bezos, comparing him to Batman. He said Bezos' statements that no one understands how Amazon makes money should make investors very wary.
Einhorn's investing eminence stems from his critique of Lehman Brothers, which happened months before its epic downfall. More recently, his questions about Green Mountain Coffee Roasters (GMCR) have put pressure on the stock.
While investors perk up when Einhorn hints at a short position, he also had some positive comments, including about Apple (AAPL, Fortune 500), which is his largest holding of a public company. He said the technology company was misunderstood, and that a $1 trillion market cap for the company wasn't unreasonable.
Regarding the global economies, Einhorn painted a dark picture over France, saying that its bonds were priced too high.
He also said he plans to stay out of China, making a case for a hard landing. Despite the building boom, "houses are unsold. Trains have few passengers, and the roads are empty," he said.