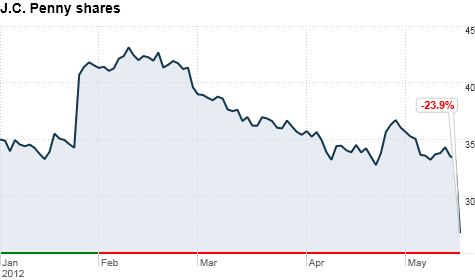 Click chart to track stock.
NEW YORK (CNNMoney) -- Investors dumped J.C. Penney stock on Wednesday after a dismal earnings report, following the first full quarter with a former Apple executive at the helm.
J.C. Penney's (JCP, Fortune 500) stock plunged 19% in afternoon trading Wednesday, after the clothing retailer reported a drop in same-store sales and cut its dividend. The stock is down 24% for the year.
Investors had high hopes for CEO Ron Johnson, who helped launch hundreds of retail stores for Apple (AAPL, Fortune 500). J.C. Penney's stock surged 17% on June 11, 2011, when the company announced that Johnson would become CEO that fall, replacing Mike Ullman.
Now, Johnson is in the midst of a four-year plan to revamp J.C. Penney, which includes pulling out of outlet stores. The company said this withdrawal was partly responsible for the quarterly loss.
The transition is proving to be painful, and the retailer is flailing in an unforgiving market. J.C. Penney saw a plunge of 18.9% in same-store sales and 27.9% in online sales during the first quarter, compared to the year before. Johnson said that achieving sales and profitability had been "tougher than anticipated."
The company reported a loss of $55 million, or 25 cents per share, excluding restructuring costs and charges for reducing inventory. This prompted the department store chain to eliminate its 20-cent dividend in the hope of saving $175 million per year.
"The farther out one looks with respect to [Johnson's] plans, the better the picture becomes," said Bernard Sosnick, analyst for Gilford Securities. "But any transition like this entails a lot of uncertainly, as was evident in the first quarter, and will probably show up again in the second quarter."