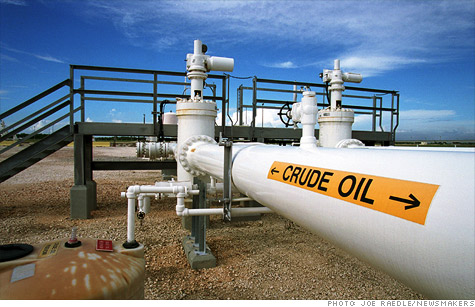 A release of oil from the world's strategic petroleum reserves is still likely despite the recent fall in crude prices as up to 1 million barrels a day could soon be lost from Iran.
NEW YORK (CNNMoney) -- Despite the recent fall in oil prices, analysts say President Obama may tap the Strategic Petroleum Reserve as sanctions on Iran take hold.
While oil prices have fallen from over $110 a barrel to near $90 in recent weeks, tougher sanctions on Iran begin to take effect at the end of June.
That could mean up to 1 million barrels a day could soon be taken off the table, resulting in a possible spike in oil prices.
"A strategic petroleum reserve draw remains more likely than not between now and July 1," Kevin Book, head of research at ClearView Energy Partners, wrote in a note Wednesday.
July 1 is the day the European Union is set to halt all oil imports from Iran. The EU is currently Iran's largest crude customer.
Just a few days before that, on June 28, the United Sates is set to decide if nations such as India, China and South Korea have reduced their imports of Iranian crude enough to avoid tough U.S. sanctions.
The sanctions on Iran are designed to punish the country for its nuclear program, which it says is for peaceful purposes but many contend is designed to produce a bomb.
The whole situation if rife with political implications, especially for President Obama, who faces reelection in November.
Obama can't appear to be seen as weak on Iran. That would open him up to charges that he's soft on national defense. But crimping Iran's oil output too much could raise gas prices, angering voters just before they head to the ballot box.
Iran has agreed to return to the negotiating table, which is one of the reasons oil prices have fallen. But few expect a real breakthrough to occur before the end of June.
Obama and other world leaders will then face a choice: Back down on Iran, or risk higher gas prices. Tapping the reserves -- located in the United States, Japan and some European countries -- may allow the West to both be tough on Iran and maintain price levels.
"The embargo will come into force by the end of June, setting the stage for a tighter market and possible SPR release over the summer," Greg Priddy, a global energy analyst at the Eurasia group, wrote in a recent research note.
A report in a Japanese newspaper Wednesday said Obama will ask leaders for a coordinated reserve release at the upcoming G8 meeting at Camp David. The G8 contains many of the world's most developed nations, most of which are big oil importers.
The White House wouldn't comment on the report in particular, but did say energy issues in general will be discussed and that "all options remain on the table."
But tapping the reserves is also not without political risk. Many analysts say they should only be only used in case of an actual shortage of oil, not simply to lower prices.