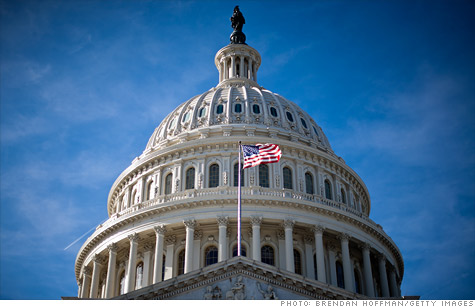 The sky over the Capitol may be clear. But the same can't be said about how Congress will handle the fiscal cliff.
NEW YORK (CNNMoney) -- As if the debt crisis in Europe and a slow economic recovery aren't enough to deal with this year.
Now, investors and businesses are being served another whopping scoop of "who the hell knows?" because of paralysis in Congress over the so-called fiscal cliff.
The going assumption is that lawmakers will wait until after Election Day to deal with the $7 trillion worth of tax hikes and spending cuts set to take effect in January.
Most observers believe Congress at the last minute will postpone them and punt real policy decisions to 2013.
But markets and businesses might not wait to react. In fact, they may start to behave defensively well before the end of the year.
Some experts, like independent economist Allan Sinai of Decision Economics, believe that the stock market, already pressured by Europe, could sell-off without signs of progress on a legislative deal by summer.
Mohamed El-Erian, CEO of investment firm Pimco, predicted in a May 3 Washington Post commentary that global markets "will be looking for signals that our politicians understand the severity of the situation" within weeks or months. "If clear signals are not forthcoming, markets could react early to the looming trouble," he wrote.
Komal Sri-Kumar, chief global strategist at investment firm TCW, believes that "nervousness" will pervade markets starting in August.
And it will grow over time.
Investors will realize they may not get a clear sense of fiscal policy even after the election, Sri-Kumar said. If Congress looks like it will deliberate -- or dither -- until the end of the year, managers of investment portfolios will worry they won't have time to adjust their positions.
Consequently, Sri-Kumar sees record low rates on Treasuries continuing, as investors seek safety. On the equity side, investors may start to shift money into dividend-paying stocks in the consumer, utilities and health care sectors, he said.
Mari Adam, a certified financial planner in Boca Raton, Fla., is concerned about how investors will respond to the uncertainty.
"You can't even put probabilities on it," Adam said. "Brinksmanship is creating a very toxic environment."
Many people were left feeling that the "country is becoming ungovernable" after last summer's debt ceiling debate, she said. "Those who used to be confident about the country's future are less so because of the self-inflicted wounds in Congress."
Adam also sees many clients -- both seniors who rely on investment income to supplement Social Security and younger investors who should be taking investment risks -- clinging to bonds that yield next to nothing.
"If this is where we're starting, it's not very encouraging," she said.
That's in the market. On the frontlines of the economy, some businesses may also react to the outsized uncertainty about taxes and spending.
Specifically, those that rely on federal government spending, said Joe Minarik, senior vice president of the Committee for Economic Development.
He puts defense contractors in that category, since they would feel the effects of a scheduled 10% cut in defense spending next year.
Other businesses not directly affected by spending cuts may be less worried about the fiscal cliff this year.
Broadly speaking, however, it's very hard for any business to make hiring and investment plans without knowing what's happening with fiscal policy.
"That's a recipe for paralysis in decision making," said IHS Global Insight's chief U.S. economist Nigel Gault, who thinks the effects of fiscal cliff uncertainty will come later in 2012. "The natural response is to be more cautious. It could slow things down."