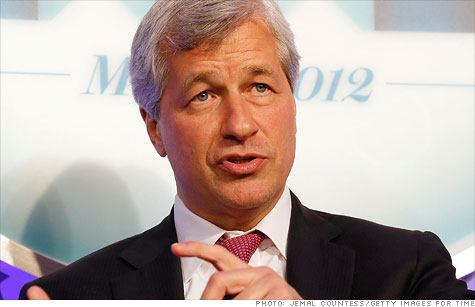 Jamie Dimon said he won't publicly tally the losses from JPMorgan's massive bet on corporate bond prices.
NEW YORK (CNNMoney) -- JPMorgan Chase's multibillion trading loss will be forgotten before the year is through, Chief Executive Jamie Dimon predicted Monday at the Deutsche Bank Global Financial Services Investor Conference.
Dimon called the losing trades "an isolated event" and said he both hopes and expects that it will be "something we don't have to talk about by the end of the year."
He declined to explain why, or how the bank's chief investment office could erase the losses. Dimon also said the bank would not give a public running tally of the losses.
Several sources recently told CNNMoney that losses could be as high as $6 billion to $7 billion. That's a big jump from the $2 billion bandied around when Dimon first announced the losing trades on May 10.
JPMorgan's (JPM, Fortune 500) trades were built around contracts tied to corporate bonds. Specifically, the firm sold huge amounts of protection on an index of 125 highly rated corporate bonds that stood a better chance of paying off if the market had continued to rally.
While refusing to disclose details of what he called "this synthetic credit thing," Dimon said JPMorgan now has the right team in place to make things better.
He specifically cited Matt Zames, who replaced Ina Drew as chief investment officer, as the right person to unwind the trades. Zames was formerly a senior trader at Long-Term Capital Management, the failed hedge fund that placed massive bets on the trajectory of interest rates and required a $3.6 billion bailout from the Federal Reserve in 1998.
Throughout his hour-long speech before investors, Dimon continually tried to frame the loss as minute within the context of the bank's overall balance sheet. He cited JPMorgan's $1.1 trillion of liabilities, $700 billion in loans and the chief investment office's $8 billion in unrealized gains.
"We are still a very conservative company," he added, citing the bank's risk aversion several times during the talk.
Meanwhile, Dimon said the bank would suspend its share buyback program but will continue paying its dividend. The buyback suspension was simply a way to shore up capital to meet regulatory requirements, said Dimon. "Don't interpret that [as a comment] on the size of the losses."
Shares of JPMorgan have declined roughly 18% since the loss was first announced, and the stock was down more than 2% Monday.
Dimon had been among the most outspoken critics of post-financial crisis regulation. Now, he appears to be walking a fine line in his criticism.
"I don't disagree with the intent of the Volcker rule," he said, referring to the law that would prohibit banks from using their own capital to make bets on the direction of the market. It's unclear whether JPMorgan's trades would be considered bets along these lines.
His offered significantly more muted critiques of the new banking regulations, simply addressing how they might limit competitiveness of U.S. banks on the global stage. More regulation, he said, could force banks like JPMorgan to charge higher fees for trading and other banking activities.
"Market making is a critical thing to do right," he said. "America has the widest deepest most transparent capital markets in the world."
He said he worries about how JPMorgan would compete with Deutsche Bank (DB) or other European banks if costs rise because of regulation.