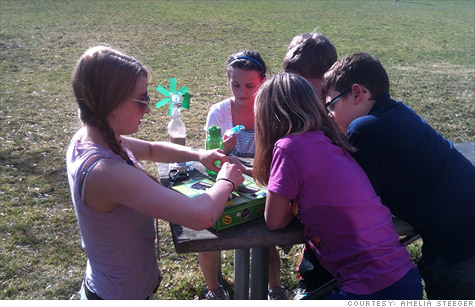 Girl Scouts' Amelia Steeger teaches children about alternative energy. She's interested in a STEM career.
NEW YORK (CNNMoney) -- Girl Scouts are now getting more of what they want...and it's not just cookies.
It's actually science, technology, engineering and math, the so-called STEM fields.
A recent Girl Scout Research Institute study showed that 74% of high school girls are interested in STEM. But few girls pursue careers in these areas, in part because many think they'd have to work harder than men to be taken seriously.
Leaders of the Girl Scouts aim to change this by ramping up the troops' exposure to STEM, both through activities and interactions with women working in these fields.
"Sometimes, access is just knowing about the careers that are available and meeting a young woman who is a role model," said Suzanne Harper, senior director of program resources at Girl Scouts of the USA, the national organization.
The Girl Scouts have infused STEM throughout their badges, which were overhauled last fall ahead of the organization's 100th anniversary this year. The organization has also formed new partnerships with AT&T and the New York Academy of Sciences to connect girls with female engineers, scientists and mathematicians.
STEM has been all the rage in recent years as the economy tries to pick up from the Great Recession. Though unemployment has remained stubbornly above 8%, many employers say they have STEM-related jobs but can't find qualified candidates. President Obama has poured money into community colleges to train people for jobs in science and technology.
Women, in particular, shy away from STEM. Women account for only 20% of the bachelor's degrees in engineering, computer science and physics, and only 25% of STEM positions are held by women, according to studies cited by the Girl Scouts.
To be sure, this is not the first time the Girl Scouts are delving into the sciences. One of the first badges ever offered was "electrician," and the scouts have held robotics competitions for years.
But now there is a more concerted effort to pique and maintain girls' interest in STEM.
Scouts can earn badges in entertainment technology or in the science of style, which explores the technology behind clothing. And they learn about the environment through the "It's Your Planet -- Love It!" curriculum, which offers different programs tied to the girls' ages.
Local councils are also getting on board, designing their own badges and programs in the STEM field.
Some 38% of scout programs offered in Eastern Massachusetts in the coming school year will involve STEM, said Ruth Bramson, CEO of the council there. That's up from 21% this year and roughly 10% five years ago.
"We clearly see the girls are interested," Bramson said. "Girls are not encouraged to pursue their interest in STEM. We are trying to encourage them by giving them opportunities."
For instance, more than 30 high school girls last year participated in an eight-day oceanography trip in Martha's Vineyard. Last fall, the council joined with Microsoft (MSFT, Fortune 500) to hold a conference for high school girls to discuss careers in STEM and the projects the scientists were conducting. And in November, the council will hold its first career expo geared toward changing the world through STEM.
Programs like these deepened the interest of Amelia Steeger in environmental science and marine biology. Steeger, now 17, joined the scouts when she was 6, and currently teaches environmental awareness to younger children in Medfield, Mass.
"The Girl Scouts gave me the opportunity to try many different things," said Steeger. "I got to see that science is what I really find enjoyable."
The Northeast Texas council, meanwhile, hooked up with Texas Instruments (TXN, Fortune 500) to create a STEM curriculum that rolled out in February. It provides science experiments that troop leaders can do with girls at every age level, as well as site visits to Texas Instruments. More than 2,000 scouts have already earned the patch.
Middle schoolers have a Rescue Rover challenge, which involves saving a (stuffed) puppy from a sewer at least one meter deep within three minutes. The girls have to construct the rescue device out of household materials, such as plastic bags, construction paper, Popsicle sticks and string.
The STEM projects teach the girls the science behind what interests them, said Colleen Walker, CEO of the Northeast Texas council and an architectural engineer.
"It shows them how technology affects their lives," Walker said.
The experiments also show the troops that science can be fun. At a recent meeting with Texas Instruments, several girls used spoons and cereal to learn the physics behind catapults.
Cecile Leclerc, 13, laughed as she recalled the cereal flying around the room. The Dallas resident discovered that there are lots of ways to construct a catapult, some of which are more effective than others.
Leclerc, who will attend a science and engineering magnet high school in the fall, prides herself on being a geek. The Girl Scouts lets her share that passion with her pals.
"I want my friends to see how much fun engineering is," said Leclerc, who plans to major in engineering in college and eventually become a pediatrician.