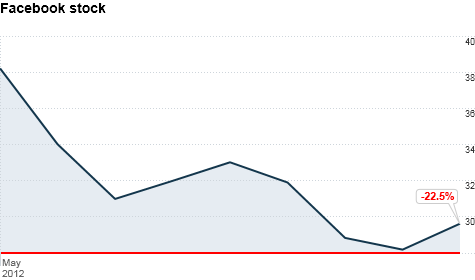 Click chart for more Facebook data.
NEW YORK (CNNMoney) -- Facebook's stock finally popped a bit.
Shares of the social networking company closed 5% higher Thursday, ending the day at $29.60.
Investors finally saw a reason to bid up shares of Facebook after the stock hit new lows in morning trading.
Even after the 5% pop, Facebook shares are still down about 22% from the IPO price.
By midday Thursday, shares of Facebook actually fell below the lowest estimated value previously disclosed by the company to $26.83. In another volatile day for the stock, Facebook shares dropped nearly 5% before erasing those losses.
The company's first initial public offer filing in February put the value of the stock at $29.73 a share as of Dec. 31.
Then on May 3, when it gave its first offering price estimate, it said it expected the company's 2.1 billion shares to be worth between $28 and $35 at the time of the IPO.
It eventually raised its price range to between $34 and $38 a share, and then took the company public at the top end of that range.
But after opening the first day of trading at $42, and seeing prices rise as high as $45 on record volume for an IPO, shares have been in a near steady slide since. They closed the first day just barely above the IPO price and lost 18% of their value over the next two trading days.
There was no significant news about Facebook on Thursday driving the prices lower or higher.
Analyst Laura Martin of Needham & Co. said investors are worried that Facebook plans to develop its own smart phone, perhaps through an acquisition, in order to deal with its perceived "mobile problems."
"One thing Facebook management is going to have to get used to is that every decision they make is going to be judged every day in the markets," said Martin. "The creation of a smart phone is something that the markets are telling them is value destructive."
Still, Martin said she's maintaining her $40 price target on the stock, as well as her "buy" recommendation, and doesn't intend to change it. She might make a change if an acquisition is announced though.
Some people questioned whether Facebook was ever worth anywhere near the IPO price. While the company is profitable, the $107 billion market value based on that offering price was more than 100 times its most recent full-year earnings, making it far pricier than most other stocks.
With the latest slide, the company's market value now stands about $60 billion, still a very pricey 60 times earnings.
The latest decline was enough to lead business news wire Bloomberg to cut Facebook founder Mark Zuckerberg from the list of the world's 40 richest people. His Facebook holdings have fallen in value from $19.3 billion at the end of its first day of trading, to $13.6 billion as of Thursday.