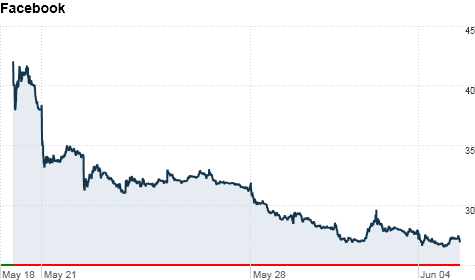 Click here for more on Facebook stock.
NEW YORK (CNNMoney) -- Facebook's stock continued its decline Monday, as the share price sank to its lowest point following its initial public offering, a decline of more than 30%.
Facebook (FB), the social media brainchild of co-founder and Chief Executive Officer Mark Zuckerberg, dipped to $26.44 during Monday's trading.
The stock closed at $26.90, down nearly 3% from Friday's close of $27.72.
Facebook's entry into the Nasdaq was one of the most anticipated, but also one of the most disappointing, IPOs in recent history. A consortium of 33 underwriters led by Morgan Stanley (MS, Fortune 500) priced the IPO at $38. But it closed just a few cents above that level on the first day of trading, and is currently down 29.2% since then.
There were issues with Facebook's IPO from the start of Nasdaq trading, when technical problems delayed its launch. Numerous investors have complained to CNNMoney that their orders were processed incorrectly or delayed.
One of the more common complaints is that investors didn't receive confirmation that their Facebook orders went through until days after the purchase, at higher prices than initially realized.
In addition, Facebook and its underwriters have been accused of granting preferential treatment to institutional investors by sharing negative information with them about the IPO, which they allegedly withheld from other investors.
This is the basis of a class action suit from investors against Facebook, Zuckerberg, and the underwriters, including Morgan Stanley, JPMorgan Chase (JPM, Fortune 500), Goldman Sachs (GS, Fortune 500), Barclays Capital and Merrill Lynch, a unit of Bank of America (BAC, Fortune 500).
A Facebook spokesman has slammed the suit as "without merit."