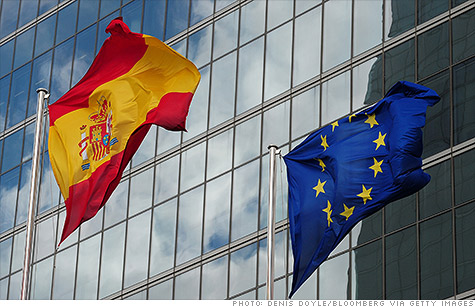 NEW YORK (CNNMoney) -- Spain found strong demand for its debt in a successful auction Thursday, two days after its treasury minister warned that the country was in danger of being shut out of markets for the cash it needs to operate.
Demand was more than three times the €611 million worth of 10-year bonds that Spain offered, up from a bid-to-offer ratio of 2.42 in April. But the interest rate Spain had to pay to sell the debt rose to 6.044% from 5.743% in April.
The yield for Spain's 10-year debt edged slightly lower to 6.13% in trading following the auction.
Treasury Minister Cristobal Montoro told Spanish radio station Onda Cero Tuesday that "the risk premium says that as a state we have a problem in accessing markets, when we need to refinance our debt."
He called for more help from other European governments to help support Spanish banks, saying the country couldn't solve its sovereign debt problems on its own.
A fixed income analyst said Thursday's results show that door hasn't shut yet on Spain.
"I think it's definitely positive in that they were able to get the money, albeit at elevated levels," said Brian Barry, a fixed income analyst for Investec in London. "But there is still a great deal of uncertainty whether they'll continue to have market access."
In addition to the 10-year auction, Spain had improved demand in auctions of 2-year and 4-year bonds, although the yields for those maturities rose as well.
Problems with Spain's banking system and its sovereign debt have become the central concern for investors and economists in recent weeks.
While there are still uncertainties about whether Greece will be forced to drop the euro following its upcoming parliamentary elections on June 17, the possibility of Spain needing help is a more pressing concern due to the size of the economy -- the fourth largest in the eurozone.
The fear is that Spain will need to be bailed out if it cannot come up with a way to recapitalize the banking sector, which could cost up to €100 billion by some estimates. But it remains to be seen if Germany will back a plan to allow bailout funds to be pumped directly to banks.
The success of the Spanish auction helped lift European stocks as well as U.S. stock futures in early trading Thursday.