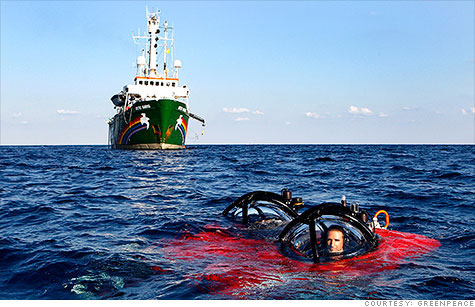 Greenpeace plans on deploying two small submarines to watch for signs of trouble when Shell begins drilling its Arctic oil wells, set for later this summer.
NEW YORK (CNNMoney) -- Greenpeace plans on deploying two submarines to keep tabs on Royal Dutch Shell when the oil company starts drilling in the Arctic, which could begin as soon as next month.
The subs, a two-person and a one-person craft, are currently on board the Greenpeace ship Esperanza, docked in Seattle.
The Esperanza plans on tailing Shell's drilling fleet, also docked in Seattle, when the fleet leaves for Arctic waters. Shell is waiting for the last batch of federal permits, expected any day, before deploying its ships.
Once the operation begins, Shell plans on drilling up to five exploratory wells in Arctic waters -- three about 70 miles off the Alaskan coast in the Chukchi Sea, and two about 17 miles off Alaska's North Slope in the Beaufort Sea.
They will be some of the first wells drilled in U.S. Arctic waters, and have touched off a debate about whether the country should be exploring for oil in the sensitive Arctic environment.
Greenpeace plans on deploying the subs at the Chukchi site and will monitor the Beaufort site by ship.
"We want to be there so we can see if anything goes wrong," said John Hocevar, oceans campaign director for Greenpeace, who will pilot one of the subs.
Due to its penchant for disrupting certain industrial operations, a federal judge has barred Greenpeace from getting within one mile of Shell's drill ships. But Hocevar said that shouldn't be a problem -- any oil leaks or other trouble should be able to be well documented from even a mile away.
He said the submarines will also take a look at the sea floor, taking inventory of the abundant starfish, mollusks, and sponges that are thought to live in the region. It will be the first time this part of the ocean has been explored by manned submersibles.
On board the Esperanza, Greenpeace will monitor the impact the drilling is having on the larger wildlife in the region, which include whales, polar bears and walruses.
Shell (RDSA) did not appear phased by Greenpeace's plans.
"Once their data is analyzed and peer reviewed, it could perhaps be added to the decades of credible science Shell has already gathered in the Arctic," said Kelly op de Weegh, a company spokeswoman.
Hocevar would prefer the drilling didn't happen at all, and is worried that if Shell hits oil it will touch off a resource race in the sensitive Arctic region.
Unlike the warm Gulf of Mexico, the Arctic's frigid waters are not thought to break down oil very quickly. Oil from the Exxon (XOM, Fortune 500) Valdez spill is said to remain on shore just below the surface, and that spill happened over 20 years ago.
Greenpeace and other critics of Arctic drilling say Shell is woefully unprepared to deal with an oil spill in Arctic waters.
They say there is a lack of equipment in the region and coordinating a spill response would be next to impossible. Indeed, the closest deepwater port to Shell's drill site is over 1,000 miles away.
Shell said it is prepared to handle any accident.
In addition to pre-positioning oil spill response ships in the region, Shell said it has done the advance engineering on equipment that can funnel oil from a leaking well to the surface for collection -- a device similar to the one that eventually captured oil from BP's (BP) Gulf of Mexico blowout.
It's quite likely Shell will strike oil.
The Arctic is estimated to contain 90 billion barrels of undiscovered, technically recoverable oil and 1,670 trillion cubic feet of recoverable natural gas, according to the United States Geological Survey. That's 22% of the world's undiscovered, recoverable oil and gas resources.
The potential bounty has already touched off a resource race between nations. Canada, the United States, Norway, Denmark and Russia all have claims in the region. Many of those claims are in dispute.
Other countries have already begun drilling, and many say the United States needs to get in on the action. The world, they argue, needs all the oil it can get.
This is essentially the position of the Obama Administration, although it has not been as aggressive as George W. Bush's administration when it comes to approving projects and has held up Shell's Arctic permits for several years.
Critics say the billions being spent to develop Arctic oil reserves would be better spent on renewables, and that it's perverse to be drilling in an area that is becoming accessible largely due to global warming.