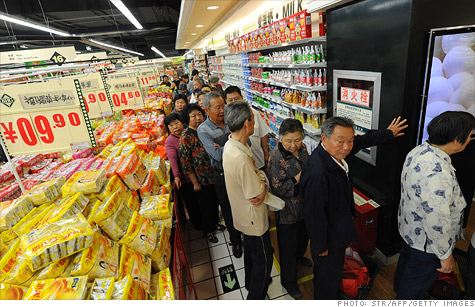 Chinese shoppers lining up to buy discounted eggs at a supermarket.
NEW YORK (CNNMoney) -- Chinese inflation continued to ease last month, another sign that more stimulus could be in the pipeline.
Consumer prices in China increased at an annual rate of 3% in May, the National Bureau of Statistics reported Saturday. That's down from a 3.4% rate of increase in April.
As recently as last summer, Chinese consumers were battling a whopping 6.5% inflation rate. May marks the fourth straight month of inflation below 4%.
In a separate report on Sunday, the government's customs administration said China's trade surplus grew in May to $18.7 billion. The nation sets records for both exports, at $181.1 billion, and imports, at $162.4 billion.
For years, the Chinese economy had been growing at warp speed, with prices increasing at a rapid rate. But inflation has significantly slowed in the past year following government efforts to rein in price increases.
The Chinese government has recently seemed more concerned with slowing growth. But that may be changing.
On Thursday, the People's Bank of China announced a surprise 0.25 percentage point rate cut in various lending and deposit rates for Chinese banks. The move is designed to boost economic activity.
With inflation firmly in check, Chinese officials are likely to take even more steps to juice the economy.
China's gross domestic product, the broadest measure of its economic health, grew at an 8.1% annual rate in the first quarter. But that was sharply lower than the 8.9% growth at the end of last year.
The slowdown has many economists worried about a so-called hard landing for China, which, as the world's No. 2 economy, has become an important driver of global growth.
Some economists are forecasting that even lower prices are on the way.
"We expect there will be a lot of declines in inflation to come in June and July, with it reaching 2% by the middle of the year," said Qinwei Wang, China economist for Capital Economics.
Wang said surveys of Chinese manufacturers show they are paying less for raw materials and charging customers less for their products.
The recent slowdown in Chinese manufacturing, partly as a result of near recession conditions in Europe, the largest market for Chinese exports, has also reduced the pressure on employers to raise salaries.
But consumers are at least feeling some relief at the grocery store.
Food prices have been a main culprit in rampant inflation recently, but are finally starting to ease, rising at 6.4% annual rate in May. That compares to the 7% rate of increase in food prices in April.
Carl Weinberg of High Frequency Economics, said falling food prices could be even more widespread if there is a bumper crop later this year, and that should be a tremendous boost for Chinese economic growth.
"We believe food prices will continue to slow on a year-over-year basis, boosting real discretionary income," he said, which will help push up retail spending.
"If we are correct, we will look for GDP to accelerate in the current quarter back towards its 9.8% trend rate of growth," he said.