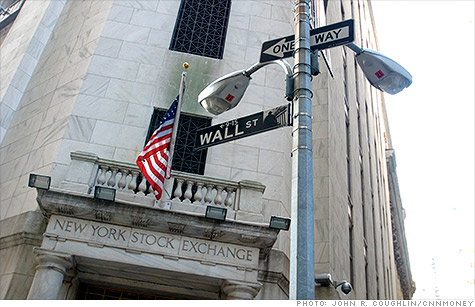 Europe's sovereign debt woes will be felt on Wall Street soon, as the major U.S. banks face downgrades by Moody's.
NEW YORK (CNNMoney) -- Downgrade fever has been sweeping across the European banking system, and the major Wall Street banks are likely to be the next to get sick.
Rating agency Moody's cut ratings for five banking groups in the Netherlands, three in France and one in Luxembourg Friday. Dutch giants ING (ING) and ABN Amro were among the banks downgraded.
Next up for the rating agency are banks in the U.K.. as well as 17 major banks with "global capital markets operations." That includes Wall Street firms Citigroup (C, Fortune 500), JPMorgan Chase (JPM, Fortune 500), Bank of America (BAC, Fortune 500), Goldman Sachs (GS, Fortune 500) and Morgan Stanley (MS, Fortune 500).
The other rating agencies, Standard & Poor's and Fitch, cut their ratings on some of the largest U.S. banks at the end of last year. Banks have been trying to assure investors they're ready for any further rating downgrades ever since Moody's first announced a review of the sector back in February.
Morgan Stanley CEO James Gorman told investors at a conference this week that even if it is downgraded by three notches by Moody's, it would be a "manageable outcome," due to the bank's liquidity. Executives at the other top banks have also said they're prepared.
"The banks have been addressing this. They knew it was coming," said Nancy Bush, banking analyst for SNL. Financial, a research firm that follows the financial sector.
But Bush said the downgrades would raise costs for the major banks, since they'll have to pay more to raise the cash they need to operate day-to-day.
"The reason [banks] have been so profitable lately is that their credit costs are so low," said Bush.
At worst, some banks may find themselves unable to sell their commercial paper to money market funds. Commercial paper is a form of very short-term borrowing banks and other companies use to meet their overnight cash needs. Money market funds, the most significant buyer of commercial paper, have limits on the debt they can buy, based on the credit rating of the companies offering it.
It may also become more difficult for consumers and businesses to borrow money if banks decide they need to hold onto their cash in order to meet their liquidity needs, Bush said.
"It certainly does not help the cause of easing credit," she said.
The U.K. and major U.S. banks are likely to be downgraded, even though neither country is in the eurozone. The international banking system is so interconnected that there is no way those banks can be spared some pain from problems in the weaker European countries and banking system.
In fact, that was the main reason for the downgrade of the Dutch banks. Moody's said they "generally retained good access to market funding, and asset quality remains sound to date."
But their exposure to the European sovereign debt crisis, coupled with the fact that the fact that the Netherlands is in a recession and is suffering from declining home prices, led to the downgrade.
Friday's move follows actions by Moody's on banks across Europe over the past month, including ratings cuts of German and Austrian banks last week, and downgrades of banks in Denmark, Sweden and Finland at the end of May.
The ratings of institutions in nations facing the most serious sovereign debt issues, namely banks in Spain, Italy and Greece, have already been downgraded by most of the ratings agencies several times. Last weekend, Spain requested €100 billion from other eurozone countries to bail out its banking sector.