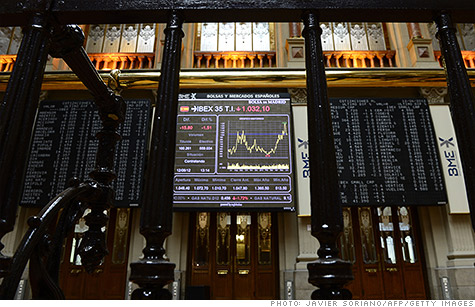 Spanish bond yields continue to rise after Greek elections.
NEW YORK (CNNMoney) -- As the political crisis in Greece slowly moves toward a resolution, Spain continues to lose credibility in the bond market.
In a sign of continued jitters over the euro debt crisis, the yield on Spanish 10-year bonds jumped to 7.1%, up from about 6.9% late last week.
The yield, which rises when prices fall, first rose above 7% last week, marking the highest level since the euro was launched in 1999.
Spain cannot afford to borrow at 7% for long and analysts say the nation is effectively shut out of the market at these levels. In addition, the 7% level is psychologically important because investors see it as a potential trigger for a government bailout.
The rise in Spanish bond yields comes as investors digest news out of Greece.
New Democracy, one of the political parties that signed off on Greece's bailout earlier this year, won the most votes in Sunday's election. But the outlook for Greece remains uncertain as politicians must now form a coalition government, something they failed to do last month.
The concern is that instability in Greece could further undermine confidence in the Spanish bond market.
"The solvency risk in Spain and its banking sector is likely to dominate markets as the smoke on the Greek elections clear," said fixed-income analysts at Nomura Securities in a note to clients.
Spanish bond yields have surged as investors worry the nation might need to be bailed out.
The Spanish government has requested up to €100 billion from the European Union to recapitalize insolvent banks. But the rescue plan failed to ease concerns about the sustainability of Spain's public debt.
Moody's and Fitch both downgraded Spain's credit rating following the request for aid, which many analysts say simply transfers the banks' bad debt to the government.
Spain is expected to announce the results of an independent bank audit later this week, which will determine exactly how much the government needs to borrow.
In addition, Spain is set to auction short-term notes on Thursday.
Spanish banks have been the main buyers of Spanish debt earlier this year, but banks appear to have slowed their purchases in recent weeks, noted the Nomura analysts.