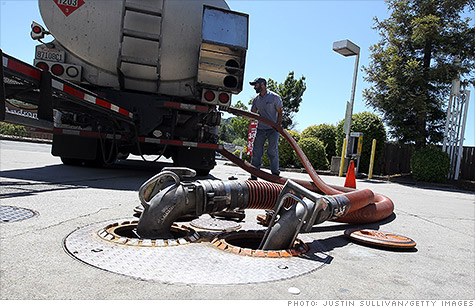 Gas prices hit their lowest nationwide average in more than four months, says AAA.
NEW YORK (CNNMoney) -- Gas prices fell below $3.50 per gallon on Tuesday for the first time in more than four months, according to AAA, thanks to the free flow of oil in the U.S. and the Middle East.
"In general, we've got a very well supplied oil market," said Dan Dicker, oil trader and author of "Oil's Endless Bid: Taming the Unreliable Price of Oil to Secure Our Economy."
The average nationwide price of unleaded gasoline was $3.497 on Tuesday, the motorist group said.
Gas prices have declined for seven consecutive days, according to AAA. More important, it's the first time the average gas price fell below $3.50 per gallon since Feb. 10. Tuesday's price matches the nationwide average from February: $3.497 for a gallon of unleaded gasoline.
Dicker said that gas prices are being held down by steady oil supplies from Saudi Arabia, which is churning out 10.2 million barrels per day "partly to screw the Iranians, who want to keep the market very tight."
He also said there's consistent supply coming out of Iraq, as well as from within the U.S.
"U.S. domestic crude production is rising at a pace some of us haven't seen in our lifetime," said Tom Kloza, the chief oil analyst for Oil Price Inflation Service.
Oil was trading at $84.23 per barrel on Tuesday, up 96 cents from the day before.