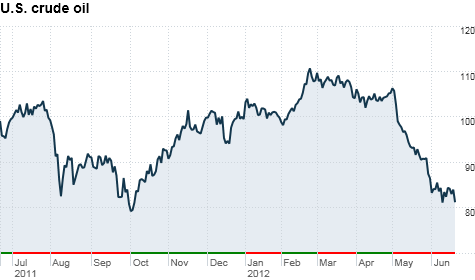 Click the chart for more on oil and commodities
NEW YORK (CNNMoney) -- The price of oil sunk to its lowest level since October following an unexpected rise in U.S. commercial crude inventories.
Oil for July delivery ended the day down 3%, or $2.23, at $81.80 a barrel, after the U.S. Energy Information Administration reported an increase of 2.9 million barrels in the week ended June 16. A Platts survey of analysts anticipated a 600,000-barrel decline.
Analysts attribute the increase to a slowdown in demand and volatility in oil supplies.
"We're seeing fluctuation because there's not a lot of oil production going on," said Carl Larry, president of Oil Outlooks. "But mostly, I think we need some kind of stability on the demand side. We need economic stability."
Larry said that oil traders expected that stability to come out of the Federal Reserve meeting, which concluded Wednesday afternoon. Some hoped that the FOMC would announce another round of quantitative easing, and the decision to extend Operation Twist was not enough to keep prices at bay.
"I thought the FOMC meeting would help turn the tide. But the lack of the word QE3 has revved traders' engines to go hit the sell buttons," Larry said.
Traders were fixated on the Fed's announcement since some of the central bank's stimulus measures directly impact the oil market by weakening the dollar. This makes it cheaper for holders of other currencies to buy dollar-dominated commodities like oil.
With the Fed's decision to keep interest rates unchanged, experts don't expect oil prices to bounce back anytime soon.
"Policymakers appear unable to cobble together a resolution to the burgeoning crisis and this will adversely affect aggregate demand," Michael Fitzpatrick, editor-in-chief of Kilduff Report's Energy Overview, wrote in a note Wednesday. "So the oil market's fundamentals will stay overwhelmingly bearish for some time to come."