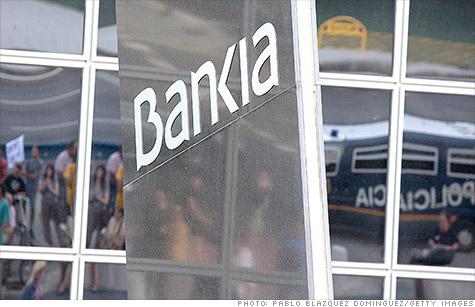 Police and protesters are reflected in windows during a demonstration outside Bankia's building Kio Tower in Plaza Castilla, on June 2, 2012, in Madrid, Spain.
NEW YORK (CNNMoney) -- Rating agency Moody's downgraded 28 Spanish banks on Monday, after doing the same to the Spanish government earlier this month.
The announcement comes on the same day that Spain formally requested loans from eurozone leaders to bail out its banking sector.
Moody's said the downgrades were driven by the Spanish government's reduced creditworthiness, which impacts its ability to bail out the country's banks, as well as a belief that the banks will sustain further losses in Spain's moribund real estate market.
In its request for a bank bailout, Spain did not specify the exact amount it would need, though Eurogroup officials have offered up to €100 billion. Independent audits released last week found that Spain may need between €51 billion and €62 billion.
With its bond yields sky-high, analysts fear Spain may be unable to lean on private markets for its borrowing needs. The Spanish government's credit rating now sits just one notch above junk status on the Moody's scale.
The uncertainty around Spanish banks has prompted speculation that Spain may need a broader bailout similar to those given to Greece, Ireland and Portugal.
Despite Monday's downgrades, Moody's said it "views positively" Spain's efforts to support its banks, and will assess the bailout's impact on the banks once the terms are finalized.
Of the 28 institutions downgraded, only global giant Banco Santander and its Santander Consumer Finance division retain credit ratings higher than that of the Spanish government. Moody's said Santander benefited from diverse income sources and manageable direct exposure to Spanish sovereign debt.
Spain and its banks have been subject to a parade of downgrades over the past few months, with a number of Spanish bank ratings lowered by Moody's last month as well. U.S.-listed shares of Spain's two largest banks, Banco Santander (SAN) and BBVA (BBVA), slipped 5.5% and 7.5% Monday, respectively.