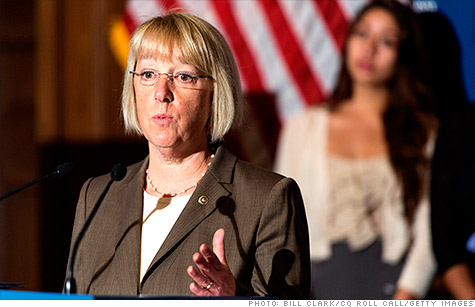 Sen. Patty Murray on Monday warned that until Republicans agree to raise taxes on high-income households, there will be no deal on the fiscal cliff.
NEW YORK (CNNMoney) -- The inability of Democrats and Republicans to work out their differences on the fiscal cliff is already becoming a problem for the economy.
And that problem will grow the longer the standoff lasts.
In the latest turn of events, Sen. Patty Murray, a leading Senate Democrat, said Monday that no deal will be cut until Republicans agree to raise taxes on high-income households.
"If we can't get a good deal, a balanced deal that calls on the wealthy to pay their fair share, then I will absolutely continue this debate into 2013 rather than lock in a long-term deal this year that throws middle class families under the bus," Murray said in prepared remarks at the Brookings Institution.
The cliff represents a host of expiring tax cuts -- including the Bush tax cuts -- and nearly $1 trillion in across-the-board spending cuts that everyone agrees is a terrible way to reduce deficits.
Republicans want to replace the scheduled defense cuts with deeper cuts in non-defense domestic programs. And they'd like to extend the Bush tax cuts for everyone.
Democrats don't like the spending cuts either -- which will total roughly $110 billion next year. But if they're going to be averted or postponed, Democrats want a package deal. "None of the automatic cuts are good policy. They were packaged together ... and they will be replaced, or not, as a package," Murray said.
And Democrats want the portion of Bush tax cuts that apply to high-income households to expire.
Economists -- most recently at the International Monetary Fund - have urged lawmakers to ratchet back the effect of the fiscal cliff in 2013, lest it throw the economy back into recession.
In 2013 alone, the combination tax increases and spending cuts would be a more than $500 billion hit to the economy.
Practically, no one expects Congress to let the fiscal cliff take effect in full. But the uncertainty of how and when lawmakers will resolve the issue is hurting business confidence and weighing heavily on companies' investment and hiring decisions, said Nariman Behravesh, chief economist for IHS Global Insight.
It won't kill the economy, Behravesh stressed, but it will curtail growth. "It'll mean growth -- employment growth, GDP growth -- will grind down," Behravesh said.
Defense contractors have already indicated they're in a hiring lockdown and could have to send out layoff warning notices this fall. Federal agencies are also likely to put off signing contracts and making new hires.
Uncertainty is also likely to cause tumult in the stock market. "Stocks have been under pressure, and will remain this way until there is some resolution," said Alex Hamilton, an analyst at EarlyBirdCapital, a boutique investment bank.
Not everyone is worried that Murray's ultimatum - or House Speaker John Boehner's insistence that more spending cuts will be needed before the debt ceiling is raised again - are quite so inflexible.
"Both sides will have to dial down tension ... as interest groups and market participants increase pressure for a path forward. ... Any politician who says they are willing to go over the ledge is likely bluffing to build leverage," said Sean West, director of U.S. policy at the Eurasia Group.
West believes that if there's no sign of a deal near year's end, they would sign on to a short-term package to avert the cliff temporarily.
That may be cold comfort, though, to those actually trying to run a business and hire people.