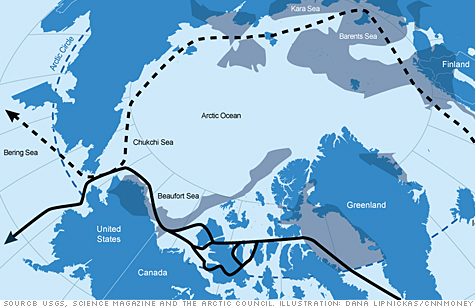 A rush to extract natural resources from the Arctic Ocean is heating up as global warming makes more and more of it accessible. Click to expand this map highlighting major oil and gas fields and the two main Arctic shipping routes.
NEW YORK (CNNMoney) -- When Royal Dutch Shell sinks five wells off Alaska -- slated for next month -- it will be the first drilling in U.S. Arctic waters in decades.
Yet it will be just the latest in a slow-moving but steady push to tap the Arctic's vast natural resources.
Encouraged by high commodity prices and shrinking sea ice, everyone from Big Oil to the cruise industry is eager to get in on the Arctic's riches.
Oil and Gas: Perhaps the most high profile of the Arctic's natural resources, oil and natural gas also seem to be the most plentiful.
Nearly 13% of the world's undiscovered oil reserves and 30% of its undiscovered gas reserves lie north of the Arctic circle, according to the U.S. Geological Survey. That's 90 billion barrels of oil and 1,670 trillion cubic feet of natural gas.
Those estimates don't even include so-called unconventional oil and gas deposits such as hydrocarbons found in shale rock or methane hydrates on the sea floor -- which are basically crystals filled with natural gas.
Finding themselves increasingly locked out of resource-rich nations such as Mexico, Venezuela and Saudi Arabia, the world's major international oil companies are eying this potential Arctic bounty as a source for future growth.
Shell's Alaska operations are garnering most of the headlines this summer, but the U.K.'s Cairn Energy has already drilled off the coast of Arctic Greenland.
Norway's Statoil (STO) is exploring in the Barents Sea, where Chevron (CVX, Fortune 500) also has leased acreage. And Exxon Mobil (XOM, Fortune 500) has struck a deal with Russia's Rosneft to drill in the Arctic off the Siberian coast.
These and other deals have been announced in rapid succession over the last few years. But actually producing sizable quantities of oil from the Arctic will be a long, slow process.
The region is utterly lacking in the infrastructure needed to build oil wells and move crude out: pipelines, deep water ports, airstrips, housing. Even which counties own what resources is in dispute.
Dealing with the shifting Arctic ice is another challenge.
The pressures created by massive ice sheets could crush traditional oil field equipment. Even subsurface pipelines and well heads could be obliterated by a deep iceberg moving in the shallow Arctic waters off Alaska.
"There needs to be an evolution of technologies," said Surya Rajan, an oilfield technology analyst at IHS Cambridge Energy Research Associates.
It's not at all certain extracting this oil and gas can be done without significant damage to the natural environment and the livelihoods of the people that inhabit the region.
So for now, Arctic oil development will proceed at a slow pace, in shallow water with drilling mostly confined to summer months -- much as Shell (RDSA) is planning with its Alaska wells.
Even if Shell strikes oil next month, those wells would not be producing oil for several years. It may be a decade or more before major amounts of oil or gas flow from Arctic waters.
Shipping: The melting Arctic is creating a tantalizing prospect for shipping companies: Keeping the northern sea passage between Europe and Asia permanently open.
For decades ships have been able to traverse the Arctic along two sea routes. One hugs the Canadian coast and the other along the Russian side.
These routes can cut the distance between Northern Europe and Japan nearly in half, according to a report by the Arctic Council, an organization made up of the eight Arctic nations and other stakeholders. Some estimate it could shave a millions dollars in costs off each trip.
Arctic voyages could previously only take place during a short window in the summer, and often required expensive and scarce icebreakers to accompany the ships.
That may be changing.
Many scientists now estimate that the Arctic could be permanently ice-free in the summer by 2030.
That could make the Arctic passable year round, and without requiring the services of an icebreaker.
Minerals and fish: In addition to oil and gas, the Arctic is is thought to contain world-class reserves of iron ore, zinc, nickel, gold, uranium, and other minerals.
Already, the world's largest zinc mine is in Arctic Alaska, while the largest nickel mine is in Arctic Russia. One estimate in a Geological Society of London paper said the mineral value in Russia alone could exceed $2 trillion.
Fishing is also an important resource in the region, and could grow as more waters become accessible and species such as cod migrate northward.
Clearly, there will be expanding uses of the Arctic as it thaws.
Whether humans can successfully tap these resources without further damaging the environment, and whether Arctic riches will offset the likely substantial costs imposed by global warming elsewhere on the planet, is another matter entirely.