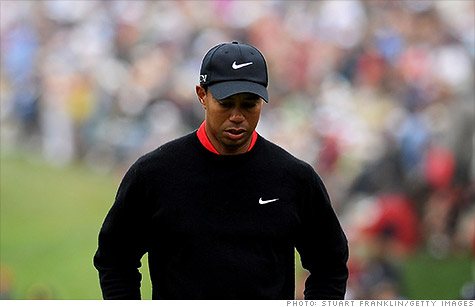 Tiger Woods is no longer the best-paid athlete. Click on photo for full rankings from SI.com.
NEW YORK (CNNMoney) -- Tiger Woods has finally lost the title of the world's best-paid athlete, more than two years after a sex scandal chased away some of his most lucrative sponsors.
In this year's Fortunate 50 -- Sports Illustrated's ranking of the top-paid U.S. athletes -- boxer Floyd Mayweather Jr. knocked Woods out of the top spot for the first time since the list began in 2004.
Woods dropped into third place after golfer Phil Mickelson nabbed the No. 2 spot. Woods' estimated endorsement income fell to $54.5 million in 2011 from $60 million in 2010 and $92 million in 2009, the year that ended with his well-publicized sex scandal.
Woods' scandal cost him several high-profile sponsors, most notably Pepsico's (PEP, Fortune 500) Gatorade, which ended its deal with Woods in February 2010. He also lost partnerships with General Motors' (GM, Fortune 500) Buick, Procter & Gamble's (PG, Fortune 500) Gillette razors and AT&T (T, Fortune 500).
But fortunately for Woods, his biggest sponsor, Nike (NKE, Fortune 500), stuck with him, paying him an estimated $35 million a year. He also still has a deal with video-game maker Electronic Arts (EA), which is believed to be worth $9 million annually.
And he's picked up a few new sponsors, although they're not nearly as big as the blue-chip names he lost. In late 2011, upstart sports-drink maker Fuse Science (DROP) signed him, but the company was still in the development stage and only started generating limited revenue earlier this year.
Woods has not won a major tournament since the scandal broke and has seen his on-course earnings fall sharply. His estimated winnings were just $1.9 million last year, down from $20.5 million during the 2009 golfing season.
In the top spot, Mayweather Jr. had zero endorsement dollars, but brought home $40 million in his win over Victor Ortiz in September 2011 and another $45 million from his May 2012 fight with Miguel Cotto. He's going to have trouble spending those winnings in the near term though: He's serving a three-month jail sentence for domestic abuse.
Woods' golfing rival Phil Mickelson is No. 2 on the earnings list, the spot he's held since 2008. With $3.8 million in winnings and an estimated $57 million in endorsement deals, his earnings are little changed from 2011.
Sports Illustrated's rankings combine the pay, winnings and endorsement deals from the athletes' most recently completed season. That means New Orleans Saints quarterback Drew Brees, who just signed a $100 million, five-year deal that will pay him $40 million in the 2012 season, is not yet on the Fortunate 50 list.
The list also excludes foreign athletes, meaning Swiss tennis star Roger Federer -- with an estimated $51.4 million in winnings and endorsements -- is nowhere to be found. The top-paid international athlete, he'd be No. 4 on the Fortunate 50 if he were an American.