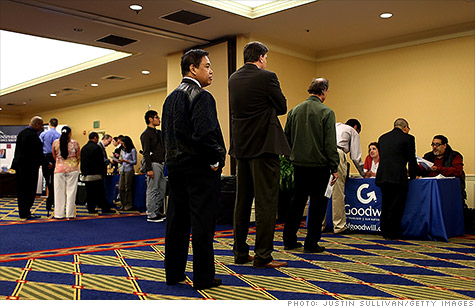 Job seekers attend a career fair in San Francisco. Unemployment claims rose last week.
NEW YORK (CNNMoney) -- A recent drop in claims for unemployment benefits was just too good to be true. Initial jobless claims rose sharply last week after falling to a four-year low earlier in July.
About 386,000 people filed for first-time unemployment benefits in the week ended July 14, up 34,000 from the previous week, the Labor Department said Thursday.
The weekly claims figure is considered an important gauge of the job market because it's correlated with layoffs, but the data has been choppy recently for several reasons.
Every year, automakers shut down to reconfigure their machinery to make next year's models -- a phenomenon that typically happens in early July and results in temporary layoffs. The Labor Department tries to adjust for this factor but may have overcompensated this year.
Stronger auto sales have led factories to either shorten or cancel shutdowns and make fewer of those furloughs.
As a result, the initial jobless claims figures looked artificially low in early July, and may now be heading back toward a more normal path.
"It is not unusual to witness extreme moves around the July 4th holiday, because the timing of retooling-related shutdowns in the auto sector are notoriously difficult to account for -- and this appears to be the case over the past few weeks," Joseph LaVorgna, chief U.S. economist for Deutsche Bank, said in a note to clients.
As initial claims return to their long-run trend, they continue to point to a weak pace of hiring. Job gains have been anemic for three straight months, and economists are not expecting much of an improvement in July.
"Based on early claims data it isn't likely that the unemployment rate -- currently at 8.2% -- will decline in July," said Ellen Zentner, senior U.S. economist for Nomura.
Meanwhile, 3.3 million people filed for their second week of unemployment benefits or more in the week ended July 7, the most recent data available.
That number was barely changed from the prior week.