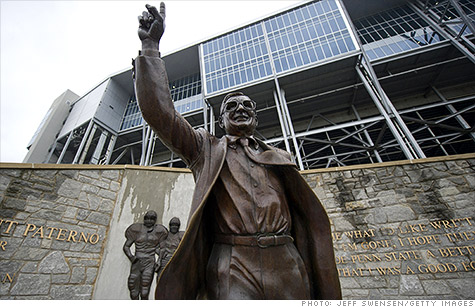 A statue of former Penn State football coach Joe Paterno has been removed from campus.
NEW YORK (CNNMoney) -- Penn State University was hit with an unprecedented series of financial penalties Monday as the NCAA and Big Ten conference announced sanctions related to the school's child abuse scandal.
The financial penalties are likely the first of many payouts the university will make.
Along with a loss of football scholarships and a four-year prohibition on postseason play, the university has agreed to pay a $60 million fine that will be used to help the victims of child abuse.
In a separate enforcement action, the Big Ten announced that Penn State will not receive a share of the conference's bowl revenues for four years, a hit of around $13 million.
The actions against Penn State, taken together, are likely to dramatically reduce the recruiting prowess and on-field performance of one of the nation's most storied football programs.
But the university is likely to suffer millions more in fines and payments as civil cases brought by Sandusky's victims are resolved. The school's credit rating could be downgraded, and corporate sponsorships are in jeopardy.
It was not immediately clear whether Monday's $60 million fine would be paid by the athletic department or another university fund.
Some penalties are likely to be assessed to the university at large, while others are paid by Penn State's athletic department -- one of the richest in the country, and almost uniquely well-suited to weather severe financial penalties.
"The money is there," said Dan Fulks, a professor of accounting at Transylvania University and a research consultant for the NCAA. "This athletic program is self-sufficient."
Last season, Penn State's revenue of $72.7 million from football was the fifth highest of any college program in the country, according to a CNNMoney analysis of figures reported by each school to the Department of Education.
And when comparing revenue to total expenses, Penn State football's profit of $53.2 million was second only to the University of Texas' total of $71.2 million.
In addition, Penn State reported an additional $24.1 million in athletic revenue not specifically assigned to one team or sport. Much of that is in general merchandise sales and sponsorships, driven by the popularity of football.
And while the NCAA said it arrived at the $60 million fine because that is roughly the amount of revenue the football program collects each year -- the penalty will be paid over a five-year period.
Still, significant questions remain about the university's exposure to civil lawsuits and the level of monetary support it can expect from alumni.
Credit rating agency Moody's Investors Service said in November that it was reviewing whether Penn State -- which carries the second highest credit rating -- should be downgraded.
Moody's has since affirmed its ranking, but the school remains on "credit watch negative," which means that a future downgrade -- an event that could make it more expensive for the university to borrow -- is still a possibility.
"The negative outlook reflects the high degree of uncertainty about direct litigation costs as well as emerging reputational risk that can result in weaker student demand or reduced philanthropic support from the university's alumni and other major donors," Moody's said earlier this month.
The school has an operating budget of about $4 billion dollars, and carries debt of $1.4 billion, according to Moody's.
In some respects, the non-monetary penalties imposed by the NCAA might have the largest effect on the athletic department's finances.
Football players are now eligible to transfer to other institutions without penalty, scholarships have been reduced by 40% and the team has been barred from post-season competition.
While Penn State was spared the so-called "death penalty" some were expecting -- in which a sports program is shut down entirely, typically for at least one year -- the sanctions will make it difficult for the university to field a competitive team.
"This might not be a sudden shut-down death penalty, but is very close to slow death by attrition," said John Vrooman, a sports economist at Vanderbilt University.
"Penn State football will not recover for over a decade," Vrooman predicted, citing the example of Southern Methodist University's program, which was given the death penalty in 1987 and has yet to fully recover.
For its part, the NCAA says the Penn State penalties are worse than the death penalty.
"The NCAA sanctions on Penn State, taken in sum, far exceed the severity of shutting down a program for a year or two," the group said on its website. "What some refer to as the death penalty was not severe enough."
Lackluster performance on the field coupled with the fresh memories of the Sandusky affair could lead to reduced enthusiasm from fans, who provide much of the program's revenue in the form of ticket and merchandise sales.
"Nittany Lion fans will still be faithful," Vrooman said. "But State College will be an empty place on fall afternoons."
CNNMoney's Chris Isidore contributed to this report.