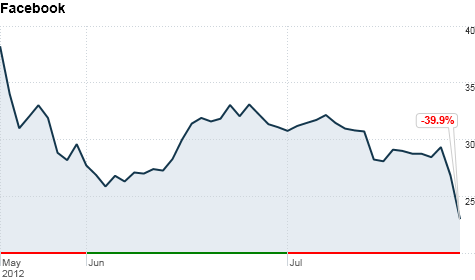 Click the chart for more Facebook data.
NEW YORK (CNNMoney) -- Facebook's stock plunged to an all-time low Friday, one day after the company's first earnings report failed to ease worries over slowing sales growth and its plan for mobile advertising.
Shares of Facebook (FB) tumbled as much as 17% to $22.28 early Friday, 41% below the company's initial offering price from May.
Facebook earnings matched analysts' expectations when it reported after the bell Thursday. The company also delivered a 32% gain in second-quarter revenue, to $1.18 billion, slightly topping forecasts.
But investors are not sure how the company will bring in more revenue from its 955 million users. In particular, investors are concerned about how Facebook will make money off its mobile platform.

As more and more users access Facebook from smartphones, the company has faced criticism for not doing enough to keep up with the swift mobile shift. The problem is that with smaller screens on mobile devices, there is less space on which Facebook can advertise.
Facebook Chief Executive Mark Zuckerberg said mobile is among the company's top priorities, on a call with investors Thursday.
He noted that by the end of June, half of its new sponsored stories from advertisers, which generated $1 million per day, came from mobile ads.
Chief Operating Officer Sheryl Sandberg added that sponsored stories were the "cornerstone of mobile monetization strategy" for the company.
The company didn't provide guidance for the next quarter, which analysts say has spurred investor fear and added to the selling pressure on Facebook's stock. But some analysts say investors are missing the bigger picture by focusing on the short term.
"Monetizing the mobile ads will take them time, and they have to balance the growth with user experience, which is why you may not see growth quarter to quarter," said Arvind Bhatia, an analyst with Sterne Agee.
But with so many users, Bhatia has no doubt that that Facebook's advertising strategy will take off. Investors just have to give it time.
"The long-term history of online advertising suggests that advertising follows eyeballs, and these guys have the eyeballs," he said. "The gap that exists between them right now will close. That process is what the company said it was focusing on."
Facebook is not the only hyped social media company feeling the wrath of the market. Zynga (ZNGA), the social gaming company, lowered its outlook and missed forecasts when it reported earnings on Wednesday. Shares plummeted 40% on the news..
Shares of Pandora (P) and Groupon (GRPN) have also taken a big hit, falling roughly 40% and 70% since their IPOs.
The social media ETF Global X Social Media (SOCL), which owns Facebook, Pandora, Groupon and many other recent IPOs, was down nearly 3% Friday.
-- CNNMoney reporter Maureen Farrell contributed.