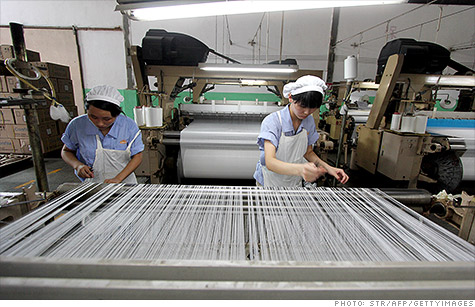 Chinese manufacturing is still growing, but it's slowing down.
NEW YORK (CNNMoney) -- Chinese manufacturing growth slowed to a near standstill in July, the government reported Wednesday.
The National Bureau of Statistics said its index of purchasing managers' sentiment slipped to 50.1 from 50.2 in June. Anything reading above 50 indicates growth, while anything below 50 indicates contraction.
It was the eighth straight month of expansion for Chinese manufacturing, according to the index, after slipping to 49 last November. It grew steadily from that point until April, when it peaked at 53.3, before dropping for the past three months.
The report was another indication that Chinese growth is slowing. Last month, the government said the nation's gross domestic product grew at an annual rate of 7.6% in the second quarter, down from 8.1% in the prior quarter.
A separate purchasing managers' survey from HSBC said that manufacturing was declining, but at a slower pace. HSBC said its PMI rose to 49.3 in July from 48.2 in the prior month, "signaling only a marginal deterioration in Chinese manufacturing sector operating conditions."
That's weaker than the PMI of 49.5 that HSBC projected in its preliminary report, released on July 24.
Qinwei Wang, China economist for Capital Economics, said the country's manufacturing activity appears to be getting some lift from government stimulus measures.
"Chinese authorities yesterday reaffirmed that growth will remain their top priority," said Wang, in a written report.
The economist said that PMI is likely "to pick up in coming months," boosted by "further policy support to come."