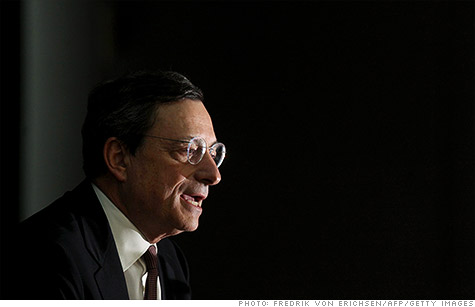 European Central Bank president Mario Draghi is under pressure to act.
NEW YORK (CNNMoney) -- European Central Bank president Mario Draghi said Thursday that the ECB will not intervene in the government debt market unless countries take certain actions.
Draghi said the ECB could buy Spanish and Italian bonds, but only if those governments make good on commitments to reduce deficits and restore economic competitiveness.
In simple terms, that means Spain and Italy need to first commit to a formal bailout program.
"Governments must go to the EFSF first," said Draghi, referring to European Financial Stability Facility, which has backed bailouts for Greece, Portugal and Ireland.
However, Draghi also said that the ECB "may undertake outright open market operations of a size adequate to reach its objective" if all the conditions are met, adding that the terms for such an intervention would be developed "in the coming weeks."
Draghi said the new "framework" differs from the ECB's existing bond buying program, known as the Securities Market Program. "We have explicit conditionality here," he said.
There will be "full transparency" about the countries involved and the size of the bond purchases, said Draghi, adding that the ECB would focus on buying short-term bonds.
Draghi stressed that intervening in the bond market is not a violation of the central bank's prohibition on financing governments. "This falls squarely in our mandate," he said.
The decision was endorsed by all members of the ECB's governing council, with one exception. Draghi did not specify which member was opposed, but he acknowledged that some central bankers, including Bundesbank president Jens Weidmann, "have their reservations."
Draghi said there was no specific development that prompted the decision to move towards more "non-standard" measures. The central bank was acting in response to "a sense of worsening of the crisis."
While he said the governing council had discussed other measures, Draghi dismissed questions about what those could include.
Draghi shot down one widely discussed proposal to give a banking license to the European Stability Mechanism, a bailout fund that has yet to be fully established. In theory, this would allow the ESM to borrow money from the ECB, giving it a potentially unlimited source of funding to buy bonds.
Draghi had said the ESM, as it is currently designed, is "not a suitable counterparty" for the ECB.
The remarks disappointed global financial markets, where investors had been hoping for a more explicit bond buying commitment.
Stocks in London, Frankfurt and Paris fell between 0.5% and 1.5%. U.S. stocks opened lower as investors gravitated away from risky assets.
The yield on Spanish 10-year bonds rose back above 7%, a level widely considered unsustainable. Italian 10-year yields rose to 6.2%, up from 5.9% on Wednesday.
Investors have been worried about Spain being forced to seek a full blown bailout if the effort to rescue the nation's banking sector falls short. That would strain the eurozone's crisis resources and leave Italy exposed to a deeper crisis in the bond market.
Meanwhile, the ECB left its main refinancing rate unchanged at 0.75%, after cutting the rate to an all-time low at its last meeting. The deposit rate, which is what the ECB pays banks on excess reserves, was also unchanged at zero percent.
The ECB meeting comes one day after the Federal Reserve left its policies unchanged, disappointing investors who had hoped the U.S. central bank would do more.