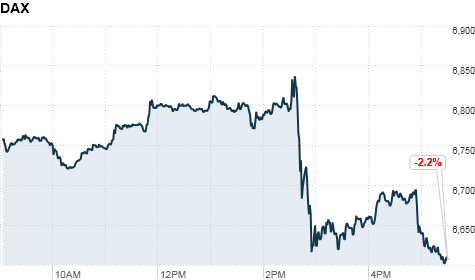 Click on chart to track markets
NEW YORK (CNNMoney) -- European stocks lost their momentum and took a dive on Thursday, closing lower as investors became nervous following the European Central Bank's failure to announce new measures to help ailing European economies.
The ECB left interest rates unchanged, and president Mario Draghi simply reiterated that the ECB was not ready to buy the bonds of Italy or Spain just yet. Borrowing costs in both nations have surged in the past year due to concerns about their debt loads.
The FTSE in London closed lower by 0.9%. The DAX in Frankfurt plunged 2.3% and the CAC 40 in Paris was down 2.1%.
The euro also lost momentum, falling versus the U.S. dollar.
Draghi said that governments should "stand ready" to deploy rescue funds to buy government bonds "when exceptional financial market circumstances and risks to financial stability exist."
Last week, Draghi said he would do "whatever it takes" to preserve the euro, the currency for the eurozone nations. In an attempt to quell detractors he added, "Believe me, it will be enough."
But his tone on Thursday was much more cautious. Gus Faucher, senior economist for the PNC Financial Services Group, said Draghi has a very complex task, trying to balance the needs of the many different countries.
"I think Draghi's in a difficult situation where he can't get too far out in front," said Faucher. "It's a situation where the politicians obviously have very different opinions on what to do. I think he has an understanding of what the ECB needs to do to get things going again, but he has to develop a political consensus."
The ECB meeting comes one day after the Federal Reserve failed to offer up any new stimulus measures.
The stakes are high. Just 11% of Europeans expect their local economy to be stronger in the next six months, according to a poll by UK research firm Ipsos MORI. 28% expect the economy to weaken, while 60% don't expect much change.
Separately, a Spanish bond auction for €3.1 billion of two-, four- and 10-year bonds was well received, and the average yield for Spanish 10-year bonds dropped to 6.64%. Investors are no doubt relieved to see the yield fall below the intimidating 7% benchmark, where it was recently trading.
Asian markets were mixed. Tokyo's Nikkei ended slightly higher by 0.13%, while the Hang Seng in Hong Kong fell 0.66% and the Shanghai Composite shed 0.57%.
Wall Street was also disappointed by the ECB's lack of action. The Dow Jones industrial average, the S&P 500 and the Nasdaq were all lower.