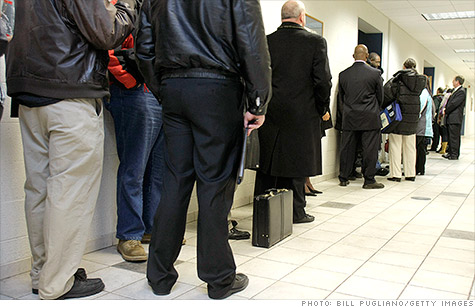 Michigan unemployment claims workers are losing their jobs.
NEW YORK (CNNMoney) -- Many jobless claims workers in the state of Michigan will soon be filing for unemployment themselves.
About 400 state workers who process unemployment claims are losing their jobs thanks to Michigan's improving economy.
The state had beefed up its staff with more than 175 temporary workers in early 2009, when weekly jobless claims topped 500,000 and the unemployment rate was on its way to a 14.2% peak.
But the revival of the auto industry has turned around Michigan's fortunes -- the state's job growth outpaced the nation's in 2011. The unemployment rate has steadily declined to its current 8.6%. And jobless claims have plummeted to 187,000.
When the unemployment rate drops, so does the federal support for administering benefits. Without those funds, Michigan will have to let go of the temporary workers, as well as 225 permanent staffers, totaling about one-fifth of the Department of Licensing and Regulatory Affairs' staff.
"Unfortunately for them, the economy has gotten better," said Mario Morrow, spokesman for the department. "It's a good news/bad news situation."
Michigan is not the only state laying off or reassigning workers who staffed unemployment benefits call centers and processed claims. With the economy recovering, about half the nation's states are dealing with reduced federal funding, forcing them to make staffing changes.
Also, President Obama's 2009 stimulus act doled out even more money to help cover states' increased unemployment benefits caseloads. But those funds have pretty much dried up.
So even states where the jobless rates are still high are forced to make changes.
In California, which has the nation's third-highest unemployment rate at 10.7%, the state has shifted unemployment workers to disability insurance and tax processing after losing federal support.
Rhode Island, meanwhile, laid off 65 workers, most of them on temporary assignment, after running out of stimulus funds. This comes even as the state still battles a 10.9% unemployment rate, the second-highest in the nation.
The state would need $4.6 million to keep them on for another year, said Laura Hart, spokeswoman for the Department of Labor and Training.
"We couldn't stretch it any longer," she said of the additional federal administrative funds.