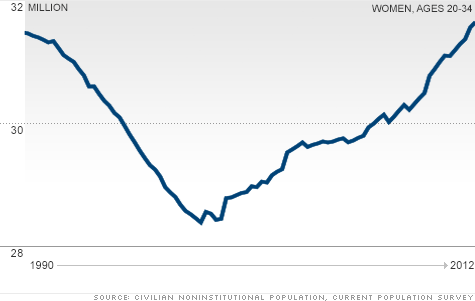 The population of women in prime childbearing age is soaring as the economy slowly recovers, leading many to predict a coming baby boom.
NEW YORK (CNNMoney) -- Three years after the recession ended, the U.S. population now has pent-up demand for many things: cars, homes, business loans ... and even babies.
The sluggish economy sent the birth rate in the United States falling as high unemployment derailed many young people's plans to move out and start families.
About 22% of 18- to 34-year-olds surveyed by the Pew Research Center said they have postponed having a baby because of recent economic conditions.
But as the economy improves, that trend will eventually have to reverse itself.
That's because most young people still want to have children. The typical American woman wants an average of 2.3 children over her lifetime. According to surveys by the Centers for Disease Control and Prevention, that's been roughly consistent for 50 years.
"When you ask women 'how many children do you want to have over your lifetime', that hasn't changed much despite this big downturn in the economy," said Samuel Sturgeon, president of Demographic Intelligence, a firm that forecasts birth rates for clients like Disney (DIS, Fortune 500), Fisher-Price, Gerber and Procter & Gamble (PG, Fortune 500).
Meanwhile, the number of women entering their childbearing years is surging. This segment of the population fell all through the 1990s, but is now back at an all-time high and continuing to rise.
Called the "Echo Boom," these women are the children of the Baby Boomers and fall between the ages of 20 and 35 -- the years considered "prime childbearing age" by the government.
Normally, these trends would result in a gradual pick-up in births, but because of the recession, that effect has been postponed. If the recovery were to speed up, it's possible the United States could see a spike in births over the next few years.
"Since so many couples have been putting off children for so many years, we expect that they will begin to have children," said Caitlin Moldvay, a senior analyst with IBISWorld, who researches birth statistics for pregnancy test manufacturers.
"It's going to be a slow increase, but it's expected to accelerate over the next five years," she said.
Sturgeon is predicting birth rates in the United States will bottom out in 2012, and increase shortly after. He calls it a "baby boomlet."
Of course, the big question is, has the economy really improved enough to make a big difference?
"There have been baby booms following recessions, but only when the economy rebounded quickly," said Jennifer Hunter, a family sciences professor at the University of Kentucky. "This recovery is much slower, so I would anticipate a much slower increase in birth rates."
Housing has shown signs of recovering recently and job growth has continued for over a year, albeit at a tepid pace.
But still, young people have yet to recover all that was lost in the recession.
There are roughly 63 million people in the United States between the ages of 20 and 35, according to the Labor Department. Of those, about 70% currently have jobs, down from 76% just before the recession started in 2007.
The other 19 million are either in school, unemployed or simply doing other things -- none of which are very conducive to starting a family.
"We're sort of in uncharted territory given this economic downturn," Sturgeon said. "We expect a mini baby boom as the number of women of childbearing age increases and so does pent-up demand. But we don't know what it's going to take to release that pent-up demand. The economy so far has not done it."