U.S. stocks ended little changed Wednesday, as investors weighed a mixed batch of economic data with hopes that the Fed and other central banks might take further stimulus action.
The New York Fed's Empire State manufacturing index unexpectedly fell to minus 5.85 in August from plus 7.4 the prior month, turning negative for the first time since October. Economists were expecting a reading of plus 5.
But inflation remains low, with consumer prices holding steady in July, according to the Bureau of Labor Statistics.
Some investors are optimistic that the combination of weak economic data and a lack of inflation will give the Fed the flexibility it needs to take steps to stimulate the economy as early as next month, said Paul Ashworth, chief U.S. economist at Capital Economics.
On the other hand, the housing market is continuing to recover and show strength, with builder confidence at its highest level in more than five years, notes Ryan Detrick, senior technical strategist at Schaeffer's Investment Research.
"Housing is the key for the economy," he said, adding that a recovery in home prices and construction would be more favorable for long-term economic growth than Fed stimulus.
Fed chief Ben Bernanke is scheduled to speak at a conference in Jackson Hole, Wyo., at the end of this month, while the Fed's committee on monetary policy is set to gather in September.
The Dow Jones industrial average fell 0.1%, while the S&P 500 rose 0.1%. The tech-heavy Nasdaq gained 0.5%, led by gains in Akamai Technologies (AKAM) and Green Mountain Coffee Roasters (GMCR).
Market momentum has been slow in recent days, as investors take a step back following a week-long rally that pushed all three indexes to the highest levels since early May. Trading volume remains low, and many investors aren't placing significant bets in the midst of the market's usual summer doldrums.
"This is vacation season," said Jack Ablin, chief investment officer at Harris Private Bank. "Everyone's in their bathing suits."
World Markets: European stocks closed mixed. Britain's FTSE 100 shed 0.4% and the DAX in Germany lost 0.3%, while France's CAC 40 ticked up 0.2%.
The unemployment rate in Britain fell by 0.2 percentage point in the second quarter to 8%, according to the Office for National Statistics. The data came in better than expected, with the jobless rate at its lowest level in nearly a year.
Asian markets closed lower. The Shanghai Composite dropped 1.1%, the Hang Seng in Hong Kong stumbled 1.2%, and Japan's Nikkei shaved off 0.1%.
Economy: Industrial production rose 0.6% in July, in line with analyst expectations.
The National Association of Home Builders' Housing Market Index rose to 37 in August from 35 the prior month. Economists were expecting the index to hold steady.
Companies: Staples Inc (SPLS) met earnings expectations, but the office supply retailer's sales declined in North American and international markets. Staples also lowered its outlook for the remainder of the year, sending shares sharply lower.
270 million Facebook shares to be set free
Target (TGT) shares advanced after the discount retailer beat forecasts.
Deere (DE) shares declined after the farm equipment maker's earnings fell short of analyst expectations. Rival Caterpillar (CAT) also closed slightly lower on Wednesday.
After the bell on Wednesday, Cisco Systems Inc (CSCO). reported a quarterly profit and sales that rose from year-ago results, beating Wall Street's forecasts. Cisco's shares rose in after-hours trading.
New York Attorney General Eric Schneiderman sent subpoenas to major banks as part of a probe into the manipulation of Libor, the world's benchmark interest rate, according to a source with knowledge of the investigation. The source said the banks receiving subpoenas are Barclays (BCS), Citigroup (C), Deutsche Bank (DB), HSBC (HBC), JPMorgan Chase (JPM), RBS (RBS) and UBS (UBS).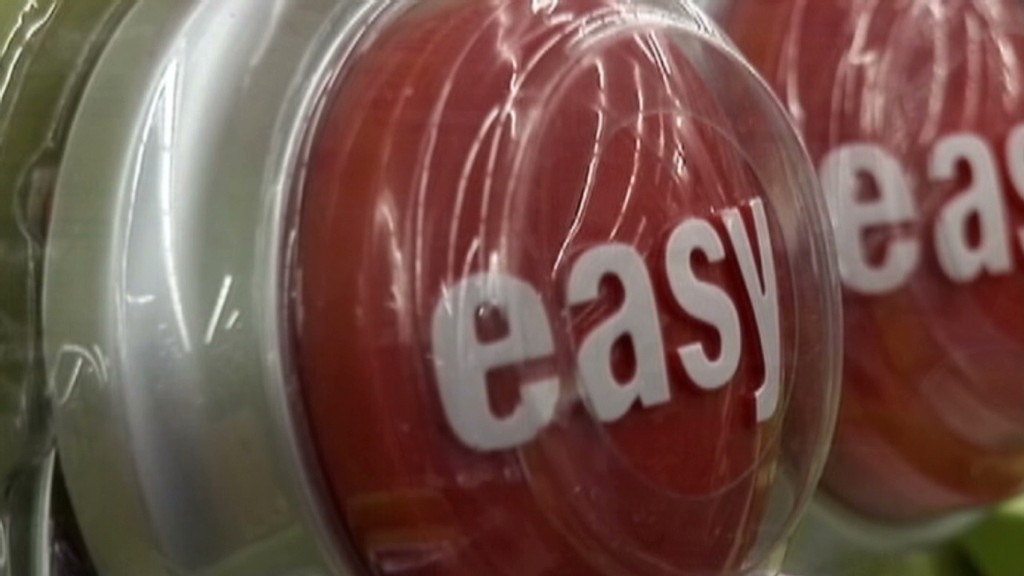 Currencies and commodities: The dollar rose against the euro and the Japanese yen, but lost ground versus the British pound.
Oil for September delivery rose 90 cents to $94.33 a barrel.
Gold futures for December delivery rose $4.20 to $1,606.60 an ounce.
Bonds: The price on the benchmark 10-year U.S. Treasury fell, pushing the yield up to 1.81% from 1.73% late Tuesday.