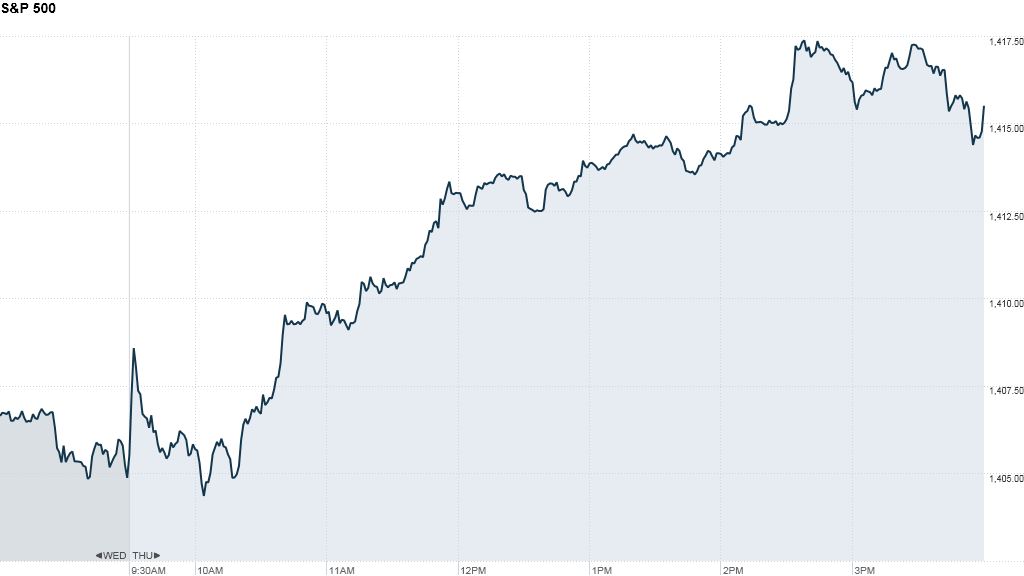 U.S. stocks closed solidly higher Thursday, as investors parsed through a mixed bag of economic data.
The Dow Jones Industrial Average and the S&P 500 ended the day up 0.6%. The Nasdaq added 1%.
Cisco Systems helped fuel the rally after reporting a quarterly profit and sales Wednesday that rose from year-ago results and beat Wall Street's forecasts. It also boosted its dividend by 75%. Shares of Cisco (CSCO), a Dow component, rose more than 9%.
Weekly figures for initial jobless claims increased, but came in lower than expected. Meanwhile, reports on housing starts and building permits showed further momentum in the housing market.
The afternoon rally after a mostly flat morning came without any clear catalyst.
"There's an old Wall Street saying to never short a dull market," said Ryan Detrick, senior technical strategist at Schaeffer's Investment Research. The low-volume trading day, he said, "increases the odds of a sharp spike like today with everyone wondering what just happened."
Investors have grown more optimistic on the state of the housing market. Home prices and new construction have started to pick up in recent months as foreclosures have slowed. Still, it's been difficult for investors to find a theme to trade on, said several market watchers.
"We've seen some economic data that's been marginally positive, but overall the market narrative hasn't meaningfully changed over the last few weeks," said Joe Tanious, global market strategist at J.P. Morgan Asset Management.
What has the potential to alter the narrative: another round of bond buying by the Federal Reserve. Investors are waiting to see whether Fed chairman Ben Bernanke will announce a so-called QE2 in his Jackson Hole, Wyoming speech at the end of the month.
One exception to the slow volume of the past several weeks: Facebook (FB). More than 150 million shares changed hands Thursday, pushing the stock down as much as 7% to an all-time low, as the social media company's "lock-up period" expired. Facebook's insiders became eligible to sell off about 271 million shares Thursday, the first of a series of lock-up expirations for the company.
Companies: Second quarter results from Wal-Mart Stores (WMT) showed that the retailer is still doing well in a sluggish economy. The company upped its forecast for the year's profits. However, both Wal-Mart and Sears Holdings (SHLD), which also reported results, missed on revenue expectations. Wal-Mart's stock slid but Sears shares moved higher.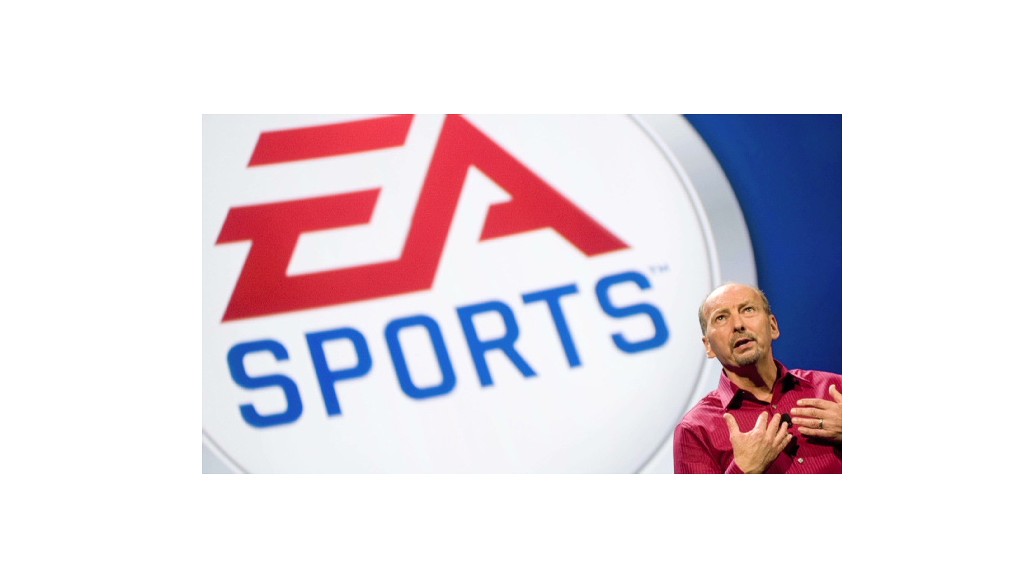 Shares in two companies, Electronic Arts (EA) and Redbox parent company Coinstar (CSTR), soared on takeover speculation. The New York Post reported that both companies are targets for private equity firms.
Economy: The number of people filing for first-time jobless claims in the week ended Aug. 11 rose by 2,000 to 366,000, according to the Labor Department. The weekly figure came in lower than analysts' estimate of 368,000.
Housing market data also came in better than expected, with housing starts up almost 22% from a year earlier, while building permits rose nearly 30% from July 2011.
The Philadelphia Federal Reserve said manufacturing in the mid-Atlantic region contracted again in August. The index came in at minus 7.1, weaker than the forecast of minus 5.. The figure was an improvement from minus 12.9 in July.
World Markets: European stocks closed higher. Britain's FTSE 100 finished the day up 0.03%. France's CAC 40 added 0.7%, and the DAX in Germany edged 0.9% higher.
Asian markets closed mixed. The Shanghai Composite shed 0.3% and the Hang Seng in Hong Kong fell 0.5%, while Japan's Nikkei gained 1.9%.
Currencies and commodities: The dollar rose against the euro and Japanese yen, but slipped against the British pound.
Oil for September delivery notched up $1.27 to $95.60 a barrel.
Gold futures for December delivery rose $12.60 to $1,619.20 an ounce.
Bonds: The price on the benchmark 10-year U.S. Treasury moved up slightly, pushing the yield up to 1.84% from 1.81% late Wednesday.