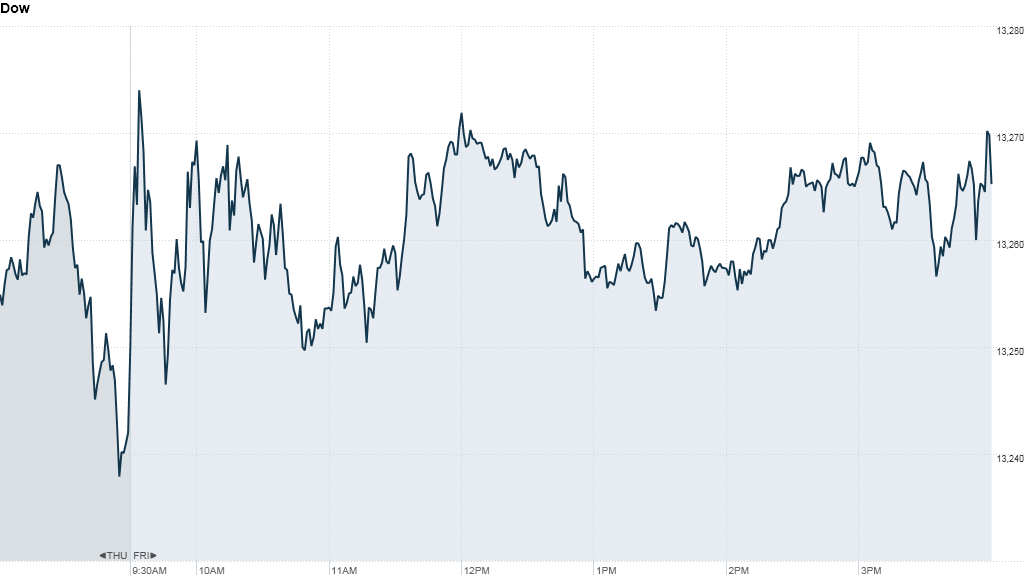 U.S. stocks ended a listless day higher Friday, with the broader market capping off a sixth straight week of gains.
The Dow Jones industrial average and the S&P 500 both rose about 0.2%. The Nasdaq added 0.4%.
All three indexes ended higher for the week. The Dow and S&P 500 have advanced for six weeks in a row, while the Nasdaq has gained ground the past five weeks.
Stocks have been trading near the highest levels since May 2008. The S&P 500 closed less than five points below the key 1,420 level.
United Technologies (UTX) was the top gainer on the Dow, while drug maker Merck (MRK) was the main drag on the index.
Apple (AAPL) stock rose to a fresh all-time high, climbing above $644 a share.
Investors also focused on the latest corporate earnings and sales data, as well as reports on consumer sentiment and leading economic indicators.
Trading volume has been low over the past few days, with many investors on vacation and little news out of Europe.
"There's no volume out there," said Bernard Kavanagh, vice president of portfolio management for St. Louis-based broker Stifel Nicolaus. "It's the typical end of August trading."
U.S. stocks closed higher Thursday following strong earnings from Cisco Systems (CSCO) and a mixed bag of economic data.
World Markets: European stocks closed higher. Britain's FTSE 100 rose 0.3%, the DAX in Germany added 0.6% and France's CAC 40 gained 0.1%.
German Chancellor Angela Merkel reiterated late Thursday that European policymakers are committed to doing everything they can to support the euro, reigniting hope for further central bank action.
Asian markets ended higher. The Shanghai Composite closed up 0.1%, while the Hang Seng in Hong Kong and Japan's Nikkei gained 0.8%.
Economy: The Thomson Reuters/University of Michigan Consumer Sentiment Index rose to 73.6 in early August from 72.3 last month. The preliminary reading was expected to come in at 72.2.
Separately, the Conference Board said its index of leading economic indicators for July rose 0.4%. It was expected to have increased by 0.2%.
Companies: Gap (GPS) reported better-than-expected quarterly earnings late Thursday. The retailer also raised its outlook for full-year earnings and increased its dividend payment. Shares rose nearly 5%.
Shares of J.M. Smucker (SJM) rose 5% after it reported earnings that topped analysts' expectations and issued an upbeat outlook.
Footlocker (FL) reported strong second-quarter results, sending its shares up 1.8%.
Facebook (FB) shares fell to another record low one day after the social media company's "lock-up period" for company insiders expired.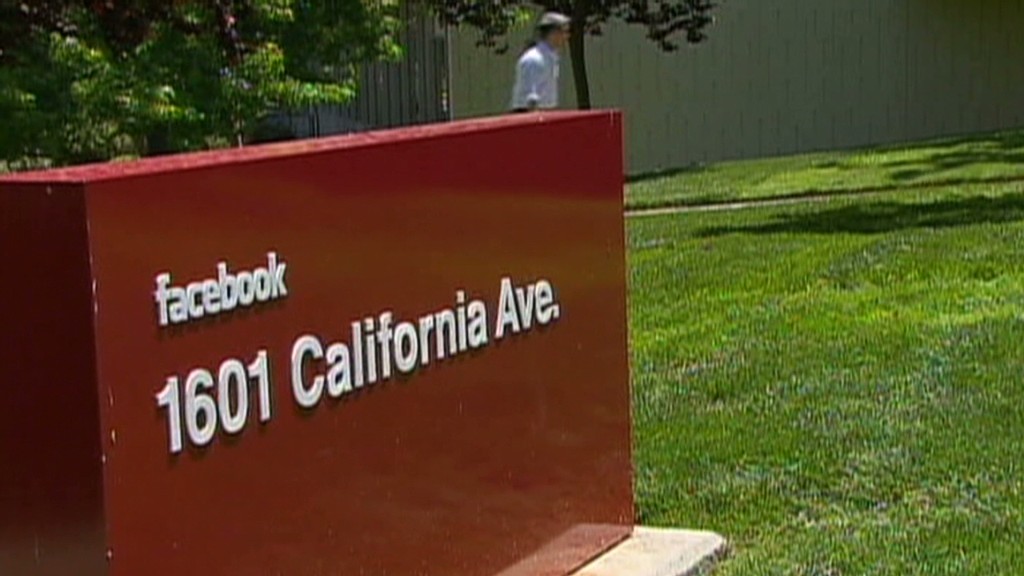 Shares of Groupon (GRPN) fell to a another all-time low, finishing a brutal week in which the company reported sales growth that disappointed investors.
Currencies and commodities: The dollar gained ground against the euro, British pound and Japanese yen.
Oil for September delivery rose 41 cents to end at $96.01 a barrel.
Gold futures for December rose $2 to settle at $1,619.40 an ounce.
Bonds: The price on the benchmark 10-year U.S. Treasury rose, pushing the yield down to 1.80% from 1.81% late Thursday.