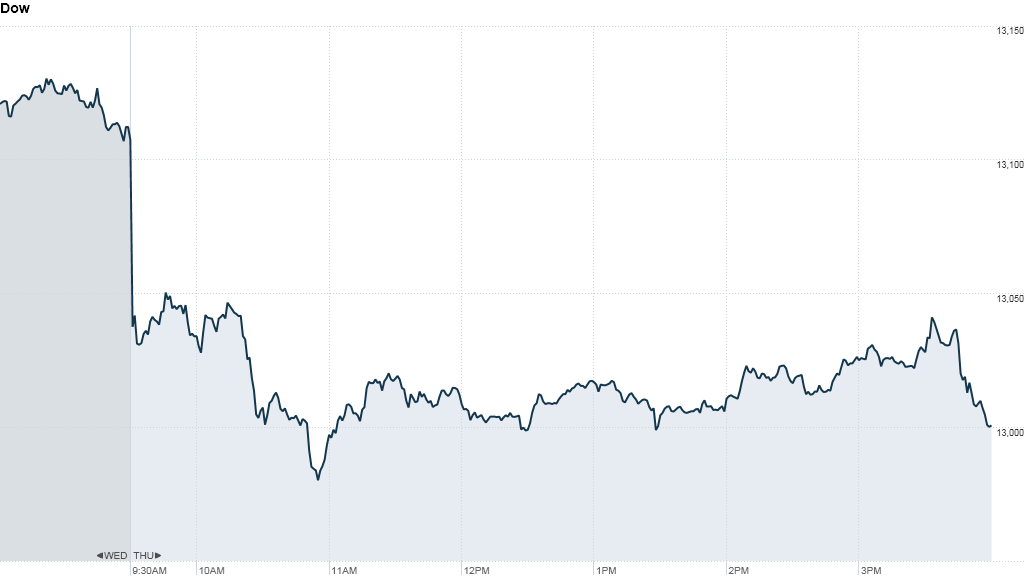 U.S. stocks fell Thursday as a string of positive economic reports dimmed hopes that Federal Reserve Chairman Ben Bernanke would announce new stimulus on Friday.
The Dow Jones industrial average, the S&P 500 and the Nasdaq lost between 0.8% and 1%.
Analysts said a steady string of positive economic indicators this week -- including a report that the U.S. economy grew slightly faster than initially reported as well as signals that the housing market is recovery -- is dashing expectations that Bernanke will come out strong on support for new economic stimulus during his Jackson Hole, Wyo., speech tomorrow.
Although Thursday's jobless claims report wasn't as good as economists expected, the news wasn't as bad as it could have been, either. A separate report showed that both personal income and spending rose in July.
"Jackson Hole is the elephant in the room today, as the market is starting to adjust its expectations that QE3 might not happen," said Doug Cote, chief market strategist at ING Investment Management. "Investors aren't digesting that the economic fundamentals are strong and that we don't need it. Instead, they're focusing on the fact that they don't want the punchbowl taken away."
Federal Reserve Bank of Atlanta President Dennis Lockhart further cooled stimulus expectations, telling CNBC Thursday that he sees "limited benefits from more action." However, he added that there "wouldn't be much of a question about policy" should the climate worsen.
Related: Unhappy with the economy? Here's why
Europe remained in focus Thursday, following an auction of 5- and 10-year Italian bonds. Italy's borrowing costs fell, signaling that investors are more confident that the European Central Bank will stage a major intervention in the bond market.
A Wednesday op-ed by ECB president Mario Draghi added to that optimism, as he reiterated that "exceptional measures" are justified to stabilize financial markets. The ECB will hold its next policy meeting on Sept. 6 and investors are keen to hear Draghi's plans.
World Markets: European stocks closed in the red Thursday. Britain's FTSE 100 shed 0.4%, the DAX in Germany fell 1.6% and France's CAC 40 edged lower 1%.
The European Commission's Economic Sentiment Indicator fell in August, as European consumers continue to lose confidence in the eurozone, particularly when it comes to retail trade and construction managers.
The Business Climate Indicator, however, edged higher, helped by an improvement in managers' assessments of exports and past production.
Meanwhile, Asian markets ended lower Thursday. The Shanghai Composite was flat, while the Hang Seng in Hong Kong lost 1.2%, and Japan's Nikkei fell 1%.
Economy: The U.S. Labor Department reported that number of Americans filing for first-time unemployment claims totaled 374,000 during the week ending August 25, unchanged from the previous week's revised figure. Claims were expected to total 370,000, according to a survey of analysts conducted by Briefing.com.
The Bureau of Economic Analsysis said personal income increased $42.3 billion, or 0.3%, in July, in line with Briefing.com's consensus.
Personal consumption expenditures increased $46 billion, or 0.4%, for the month. That was slightly below the 0.5% increase expected by economists polled by Briefing.com.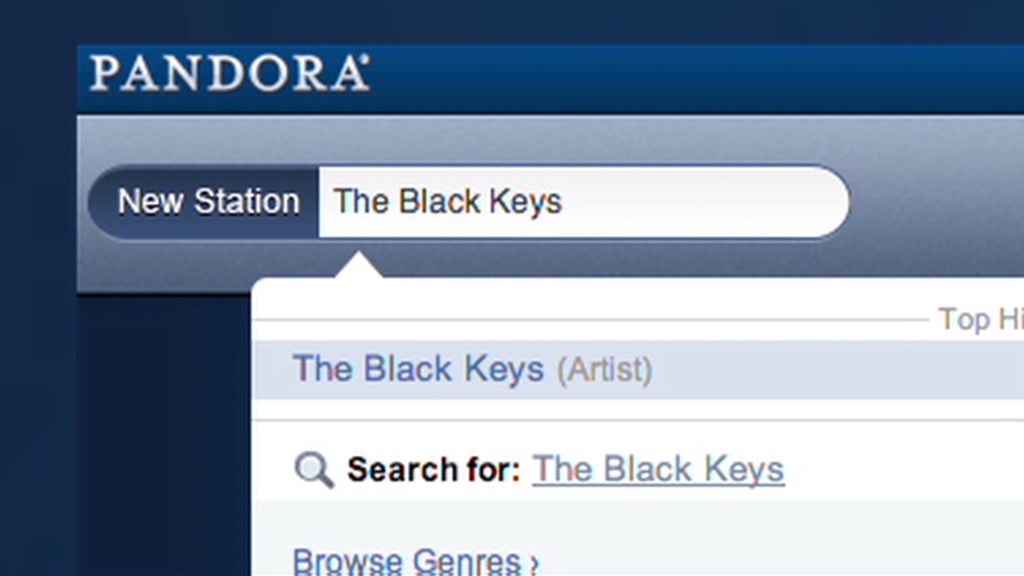 Companies: The Nasdaq and S&P 500 were being dragged lower by Sears Holdings (SHLD), which is getting kicked out of the S&P 500 next week. LyondellBasell (LALWF), which manufactures chemicals and refines crude oil, will replace Sears, when it leaves the S&P 500 after the closing bell on Sept. 4.
Pandora (P) shares jumped 14%, as the music streaming service said it broke even in its most recent quarter.
Barclays (BCS) named Antony Jenkins as the bank's new chief executive Thursday morning. Jenkins currently leads Barclays retail and business banking business. Former Barclays CEO Bob Diamond resigned in July amid a scandal over the manipulation of Libor rates. Shares of the bank were edged lower.
Related: Barclay's goes in-house for new CEO
Same-store sales data from several leading retailers, including Macy's (M), Costco Wholesale (COST), Target (TGT) and Gap Inc (GPS), exceeded expectations.
A voluntary recall of Mr. Coffee Single Cup Brewing System Units prompted Green Mountain Coffee Roasters Inc' (GMCR) to clarify that the recall will not have an impact on its Keurig brewers. Despite the fact that the recall will not affect Green Mountain's brand, shares of the company fell by 3.4% Thursday.
Shares of network equipment maker Ciena (CIEN) fell 19.5% following disappointing second-quarter earnings.
Currencies and commodities: The dollar rose against the euro, but lost ground against the British pound and the Japanese yen.
Oil for October delivery fell by 94 cents to settle at $94.62 a barrel.
Gold futures for December delivery lost $5.90 to end at $1,657.10 an ounce.
Bonds: The price on the benchmark 10-year U.S. Treasury rose, pushing the yield down to 1.61% from 1.65% late Wednesday.