U.S. stocks lost steam Tuesday afternoon and finished at two-week lows as worries about global economic growth overshadowed positive reports on the U.S. housing market and consumer confidence.
The move downward also came after Federal Reserve Bank of Philadelphia president Charles Plosser said the central bank's latest round of stimulus measures is unlikely to help growth.
"We are unlikely to see much benefit to growth or to employment from further asset purchases," said Plosser in prepared remarks. In fact, he argued that the Fed's most recent actions -- QE3 -- carry "significant risks."
"I am not forecasting that those risks will necessarily materialize and I hope they will not. But if they do, they could prove quite costly to the economy," he added. Plosser is not a voting member of the Fed this year.
The Dow Jones industrial average slid 0.8%, while the S&P 500 and Nasdaq dropped more than 1%. All three indexes closed at the lowest levels since Sept. 12. Earlier in the day, all three indexes were up more than 0.4%.
While Plosser's comments are not all that surprising, any comments perceived to be negative can cause investors to take a step back following the recent move higher, said Frank Davis, director of sales and trading at LEK Securities.
A gloomy outlook from Caterpillar (CAT) also weighed on sentiment. Shares of the construction and mining equipment maker slid, making it the worst performer on the Dow, after it cut its forecast for 2015.
Speaking at an industry conference in Las Vegas on Monday, Caterpillar CEO Doug Oberhelman said that the economic slowdown has been sharper than the company was anticipating, and modest growth over the next few years will affect the company's profitability.
Related: Caterpillar sinks on lowered forecast ... for 2015?
Meanwhile, investors also grew nervous as anti-austerity protests in Madrid turned violent. Spain's government is working to present its 2013 budget plans on Friday. The protests put pressure on the euro versus the dollar.
Following a meeting with German Chancellor Angela Merkel, European Central Bank President Mario Draghi said that while the ECB's latest efforts are supporting financial markets, they must be coupled with "decisive measures by governments to address fundamental challenges and complete the euro area's institutional architecture."
International Monetary Fund head Christine Lagarde warned Monday that the continent's policymakers need to implement a centralized banking authority and carry through with the European Stability Mechanism, a planned €500 billion fund to provide loans for troubled members of the 17-nation currency union.
Earlier, investors were encouraged that the long-battered real estate market continues to recover as the S&P/Case-Shiller index showed home prices in 20 major U.S. cities rose for a third consecutive month in July.
"We see some fairly major tailwinds that could provide a very strong foundation of support to the U.S. equity markets," said Anthony Lazzara, CEO of Lido Isle Advisors.
A surge in consumer confidence in September also helped lift the market earlier Tuesday.
European stocks closed the day mostly higher. Britain's FTSE 100 edged up 0.4%, while the DAX in Germany rose 0.3%. France's CAC 40 edged slightly lower.
Asian markets ended mixed. The Shanghai Composite lost 0.2%, while the Hang Seng in Hong Kong ticked up slightly, and Japan's Nikkei added nearly 0.3%.
Companies: Shares of Tesla (TSLA) sank Tuesday, after the electric car maker said production of its new Model S sedan will be slower than anticipated. The company said it has completed 255 Model S cars as of this past Sunday.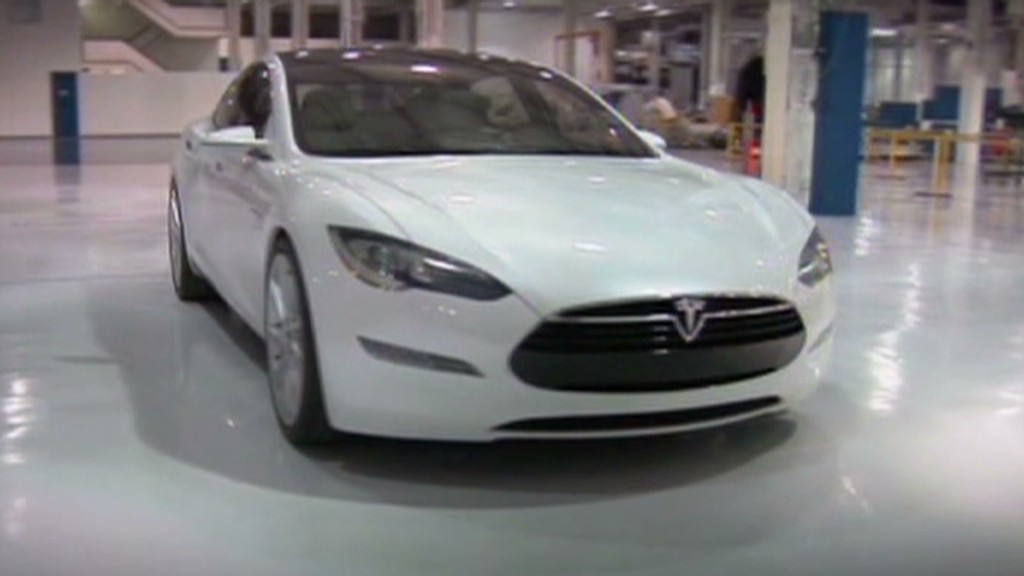 Payroll company Paychex (PAYX)'s shares slipped after it posted strong first-quarter earnings.
Shares of tech company Red Hat (RHT) fell following an earnings report that fell short of expectations.
Google (GOOG) shares hit a fresh all-time intraday high of $764.89 Tuesday, but pulled back to finish the day at $749.16, just below the record closing price reached Monday. Google's stock has rallied 16% this year as the company continues to dominate in online searches and makes strides with its Android mobile platform.
Facebook (FB) edged lower, extending its losses from Monday's 9% plunge in the wake of a $15 price call for Facebook by Barron's.
Commodities: Oil for November delivery fell 56 cents to settle at $91.37 a barrel.
Gold futures for December delivery added $1.80 to settle at $1,766.40 an ounce.
Bonds: The price on the benchmark 10-year U.S. Treasury rose, pushing the yield down to 1.67% from 1.72% late Monday.