U.S. stocks finished the day mixed Tuesday as fears about Spain kept investors sidelined.
The Dow Jones industrial average edged slightly lower, while the S&P 500 was flat and the Nasdaq added 0.2%.
"There's a battle of contrasting concerns, some that the market is able to overcome, and some that are certainly potential issues," said Timothy Ghriskey, chief investment officer at Solaris Asset Management.
Chief among them: Spain's persistent banking woes. Investors have been awaiting a formal bailout request from Spain, and many are hopeful that the wait might soon be over.
"The global stock market believes that there's going to be progress here and that we've seen the worst," Ghriskey said.
Moody's said late Monday that Spain's banks may face a greater capital shortfall than the government estimated last week. France's CAC 40, the FTSE 100 in England and DAX in Germany closed in the red Tuesday.
Greece was also in the spotlight, as leaders struggle to meet the conditions of that nation's bailout agreement.
Australia's central bank cut its interest rate to 3.25% to combat fears of a slowdown in China, giving investors hope that the intervention could jumpstart the lagging economy. Markets in Shanghai and Hong Kong were closed for a holiday, but Japan's Nikkei ended down 0.1%.
In the United States, automakers released September sales figures. Chrysler reported a 12% year-over-year increase in U.S. sales last month. It was also the best September sales since 2007. Toyota Motor also beat expectations, reporting a sales increase of 41.5% from year-ago levels. General Motors (GM) reported only a 1.5% increase from a year earlier, while Ford (F) sales slipped 0.1%.
Analysts say that while a major piece of economic news, such as Friday's employment report from the Labor Department, or progress in Europe, could bring investors back into the market, even those events might not be enough.
"We've had unprecedented monetary expansion and stimulus from every corner of the world and we're still stuck in this range," said Jack Ablin chief investment officer at Harris Private Bank. "If that didn't get investors back, I don't know what will."
Related: Economists say fiscal cliff a serious threat, but unlikely
Companies: Shares of MetroPCS's (PCS) surged nearly 18% after Deutsche Telekom confirmed it was in talks with the struggling wireless carrier about possibly merging with its T-Mobile USA unit.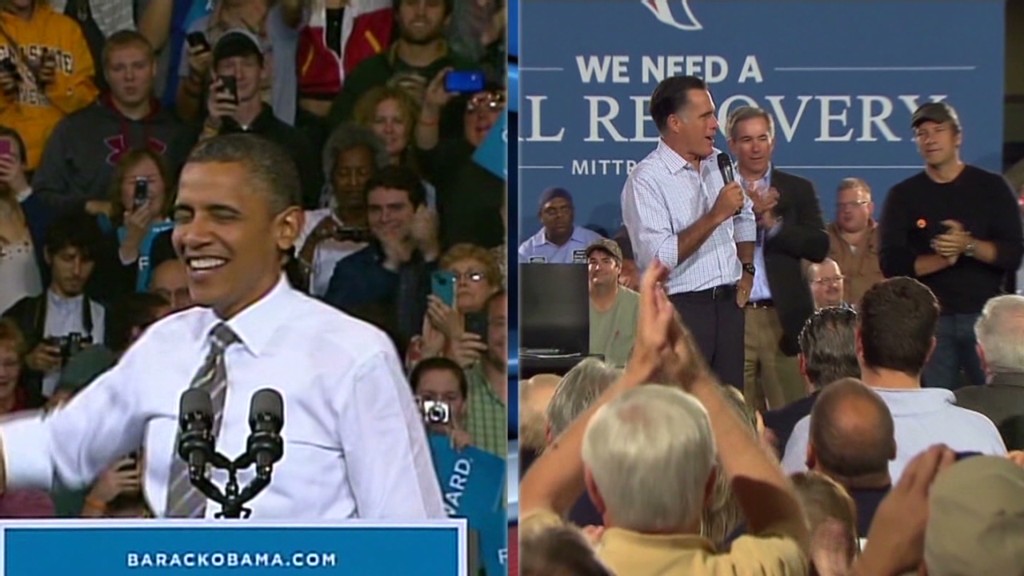 Zillow's (Z) stock sank after the Securities and Exchange Commission released a letter that questioned why the real estate site didn't disclose certain sales data and updated information about its accounting methods
Shares of clothing retailer Express (EXPR) sank more than 22% after the company lowered its fiscal third-quarter expectations. CEO Michael Weiss blamed "an abrupt change in traffic" of shoppers in September.
A judge ruled Monday that Samsung should be allowed to sell its Galaxy Tab 10.1 tablet computer in the United States, the latest development in a long-running patent dispute between the electronics maker and Apple (AAPL).
Shares of Yahoo (YHOO) rose nearly 1%, a day after CEO Marissa Mayer gave birth to a baby boy. She previously said she planned to return to work within a few weeks of giving birth.
Related: Einhorn: Short Chipotle, go long GM
Chipotle (CMG)sold off after influential hedge fund manager David Einhorn told investors to short the stock, saying the company faces headwinds from Yum Brands (YUM)-owned Taco Bell. Einhorn said GM (GM)is a buy, as is Cigna, but he reiterated is dislike of Green Mountain Coffee (GMCR).
General Growth Properties' (GGP) stock edged lower after influential hedge fund manager Bill Ackman turned up the heat on the mall operator to sell itself to Simon Property Group (SPG).
Currencies and commodities: The dollar fell against the euro and British pound but rose versus the Japanese yen.
Oil for November delivery fell 59 cents to $91.89 a barrel.
Gold futures for December delivery lost $7.70 to $1,775.60 an ounce.
Bonds: The yield on the benchmark 10-year U.S. Treasury held steady at 1.62%.