Stocks finished lower Friday, breaking a four-day winning streak. But the losses were slim and all three indexes had one of their best weeks of the year.
The Dow Jones industrial average increased 2.1%, while the S&P 500 added 2.3% and the Nasdaq climbed 2.8%. Both the Dow and the S&P 500 are hovering just below the record highs set Thursday, and are within striking distance of their next major milestones: 15,000 for the Dow, and 1,600 for the S&P 500.
There hasn't been any one catalyst pushing stocks higher lately. Mostly, investors just don't want to miss the next leg up.
Friday's mild sell-off followed weak economic news and mixed bank earnings. The Dow ended the day flat, while the S&P 500 and Nasdaq lost about 0.2%.
Related: Investors are back with a vengeance
Duo of disappointing economic reports. Retail sales dropped 0.4% in March, marking a sluggish start to the shopping season. Sales were primarily dragged down by weakness in electronics and gasoline prices. Economists were expecting sales to be unchanged from February.
Consumer confidence also came in below forecasts. The University of Michigan's preliminary reading on consumer confidence for April fell to 72.3 from 78.6 last month. Economists were expecting the index to barely slip to 78.
The Producer Price Index slid 0.6% in March, a more dramatic drop than the 0.1% economists had forecast. That's another sign that inflation is not a problem right now.
Commodities get crushed: Gold prices sank 4% to $1,501 an ounce amid speculation that Cyprus may sell its excess amount of gold as part of its bailout.
Crude oil prices tumbled more than 2%, falling to $91.29 a barrel.
Commodities were also pressured by the dollar, which gained strength against the euro and the British pound. Commodities, including oil and gold, are priced in U.S. dollars, so a firmer greenback typically weighs on prices.
Bitcoin bubble begins to burst: The price of a Bitcoin, a virtual currency craze that many speculated was a bubble, has tumbled more than 70% over the past two days.
After hitting a high of $266 earlier this week, Bitcoin prices fell as low as $54.20 Friday.
Big banks report earnings: The first of the big banks opened their books to investors Friday.
JPMorgan Chase (JPM) reported a first-quarter profit that topped forecasts, but revenue missed estimates. Similarly, Wells Fargo (WFC) reported a jump in profit, but a decline in revenue.
The first quarter was expected to have been a tough one for banks, with interest rates hovering near record lows. Citigroup (C), Bank of America (BAC), Goldman Sachs (GS) and Morgan Stanley (MS) will report their results next week.
Related: Fear & Greed Index gets greedy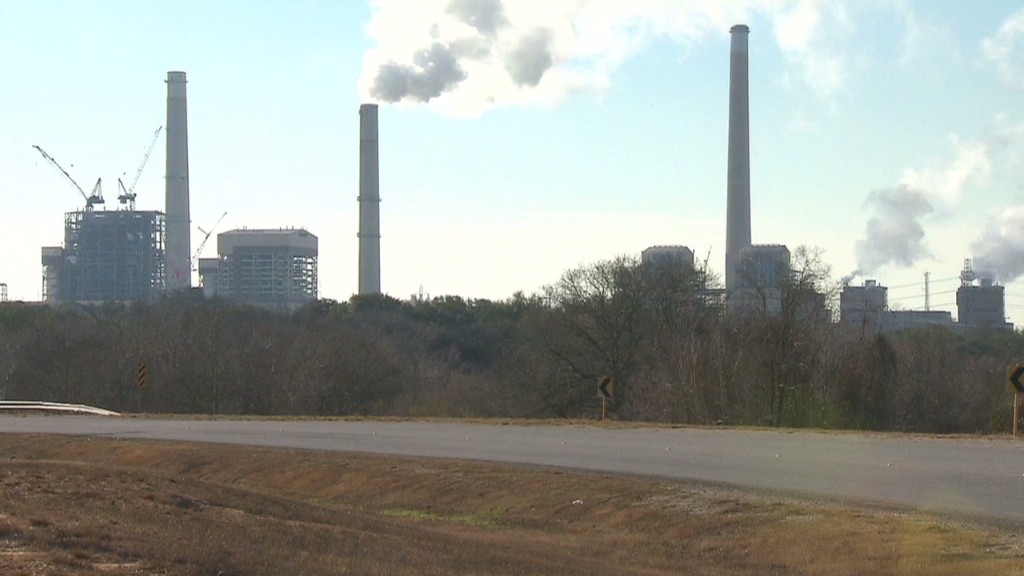 What's moving: J.C. Penney (JCP) dropped after news that the company hired Blackstone to help raise $1 billion.
In other corporate news, Nasdaq (NDAQ) executives will be getting their bonuses cut this year, and the bungled Facebook IPO is to blame.
European markets ended in the red, as concerns about the mounting cost of the Cyprus bailout ended a four-day winning streak. London's FTSE 100 declined 0.5%, while the CAC 40 in Paris dropped 1.2% and the DAX in Frankfurt fell 1.6%.
Officials from the European Union and International Monetary Fund said they will not give Cyprus extra cash to plug the gaping holes in its finances.
Asian markets ended lower. The Shanghai Composite declined 0.6%, the Nikkei lost 0.5% and the Hang Seng dropped 0.1%.
The price on the 10-year Treasury rose, pushing the yield down to 1.73% from 1.79% late Thursday.