Saturn concierge shopping services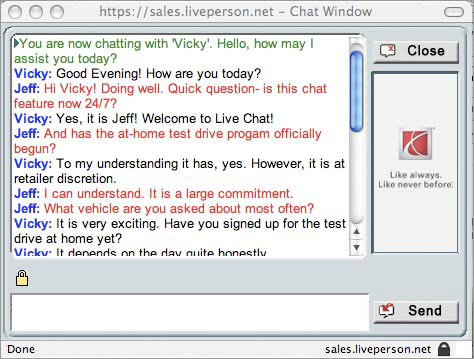 Saturn plans to increase its focus on a different kind of shopping experience with two new programs: online chat and at-home test drive.
Announced at the Chicago show, Saturn now provides online chat interaction with customer service reps 24/7. These key-stroking reps are available through Saturn.com to assist browsers with finding information. A pilot program has already been completed, logging more than 70,000 chat sessions.
As the name suggests, the at-home test drive has a dealer bringing a vehicle to the customer, at home or at work, for evaluation. (Participation this resource-demanding service is at the dealers' discretion.) The sales associate provides the car shopper with a 14-point checklist to help them with the road test, including tasks like checking road noise, storage, parking, and (gasp!) fit/finish. Routes are suggested, though customers are also encouraged to run a routine errand for real-life experience.
In tailoring this concierge test drive, the car is prepared with the customers' preferred music. Letting the cars almost sell themselves builds on the Saturn low-pressure showroom tradition, and with the latest product wave, the sales message is stronger than ever.
Wonder if the local dealer carries my preferred European symphonic, beauty/beast metal? I'd enjoy evaluating the fit/finish on an Ion...
Posted by Jeff Bartlett, Consumer Reports
10:35 AM
2 Comments

|
Add a Comment
---
Interesting advance on customer service

---
The designer, marketing group, sales group, and engineers must be out playing in the traffic. These are the ugliest, most unpractical, and most likely, pound for pound, uneconomical machines constructed since a submarine with screen doors. I am a boomer (redneck boomer) and this is what I am asking for: a two seater, similar in design to the "T-bird" but shorter. Carbon fiber body, wire wheels, front end similar to a Shelby Cobra, 6 or 4 cylinder, 5 speed manual, gas milage of 35 or more, low to ground, wide body, turbo-charger, supercharger and I can add a lot more.
Come on people lets get real.

---