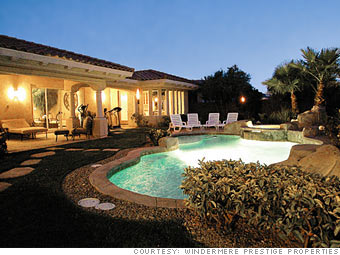 See More Views:
$1 million
This 3,450-square-foot, four-bedroom home in a development on the outskirts of Vegas overlooks a golf course and was originally listed at $1.275 million.
Big gains led to a bigger shakeout in Sin City.
Whether it's the $6 billion plus spent at its gaming tables every year or the 22 million gallons of water churning through the Bellagio fountains, nothing is small-scale in Vegas - and real estate is no different. The boom years saw annual price increases of up to 50%, making Vegas one of the most overheated markets in the country; now the declines are just as extreme.
According to the S&P/Case-Shiller home price index, Las Vegas is the hardest-hit locale nationally, dropping 22.8% in a year. It's a virtual graveyard for flip-oriented investors, with one in 44 homes going into foreclosure in the first quarter of this year, the third-highest rate in the country. But those choking declines haven't altered the fundamentals of what retirees tend to seek: a sun-drenched climate, proximity to pleasure, and a rich mine of luxury-oriented homes and condos. (A nifty bonus: no state income tax.)
While it's become almost fashionable to go on foreclosure tours and take fliers on bank-owned properties, these deals aren't always as good as you'd think. Instead, take the more boring route and buy a newly built home with a warranty in outlying areas like Summerlin and Providence. Another niche to watch: high-rise condos, which take an average of three years to get on the market because of the usual thicket of zoning, permit, and construction issues. That means projects that kicked off in the boom years are coming online right about now. Fittingly, local condos are seeing price declines of 10.3% over last year. In real estate as in gambling, timing is everything.
NEXT: Phoenix
Last updated June 11 2008: 3:10 PM ET
Email
|
Print
|

Digg this story
|
RSS