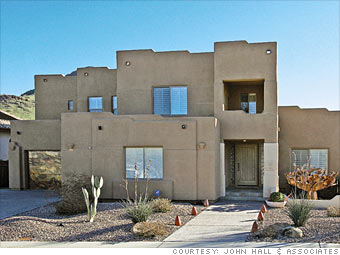 See More Views:
$1.2 million
This three-bedroom in a subdivision ten minutes from downtown has city and mountain views - and its price has come down by $100,000.
Sun, golf - and prices in some communities dropping 20% to 30%.
When it comes to attracting retirees, Arizona ranks second in the nation, having overtaken California in 2000. And real estate values have reflected its popularity: As recently as 2006, condo prices rose 15% over the previous year.
But retiree inflows haven't managed to insulate the local real estate market from the shakeout. In fact, Phoenix seems to be accelerating into the downturn, with much of its dropoff taking place in the past few months. Economy.com shows its real estate values falling almost 8% over the past year, and its foreclosure rate has nearly tripled since 2007, according to research firm RealtyTrac.
For the real deals, though, stay away from the city center, where values have held up better, according to Jay Butler, director of realty studies at Arizona State University. Instead, look to the planned communities that surround Phoenix, which are magnets for retirees and are dropping more to the tune of 20% to 30%. A $1 million home at the market's apex might go for the mid-700,000s now, Butler estimates. Look to areas like Sun City Anthem, Palm Valley, and Avondale for solid housing stock at reasonable prices. Some adult-oriented communities have sweetened the pot: Sun City Anthem has a 48,000-square-foot recreation center with pool and spa, as well as the ASU Lifelong Learning Academy, an adult-education offshoot of the university. Are the links, not the books, more your thing? Phoenix's Maricopa County has 158 golf courses, the most of any county in the country.
NEXT: San Diego
Last updated June 11 2008: 3:10 PM ET
Email
|
Print
|

Digg this story
|
RSS