The housing downturn's upside? You don't have to go overseas anymore for your dream retirement home. We found the six best markets for deals.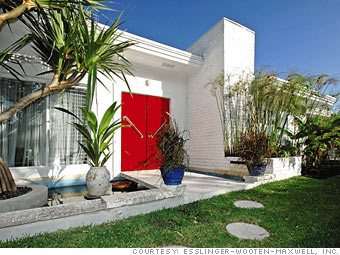 See More Views:
$599,000
This 1,750-square-foot midcentury modern in Biscayne Park, with Spanish porcelain flooring and a saltwater pool, is selling for $125,000 less than it would have three years ago.
Excess inventory means condo deals abound.
Miami was the life of the party during the housing boom, and now it's got a major hangover - or make that overhang, the real estate term for how much inventory is sitting on the market and how long it's going to take to move, given current sales levels. Miami has three years' worth of overhang, say some experts - in other words, it's a buyer's market taken to the extreme.
Indeed, prices here are down 21.7% in a year, according to the S&P/Case Shiller home price index, while median condo prices fell 10% in December. Sales have nearly ground to a halt: Condo and single-family-home sales plunged 40% last year. There's even a thriving subculture of lawyers who help panicked buyers break their preconstruction contracts. For attractive deals, look in the tony enclaves slightly to the north, like Aventura, Bal Harbour, and Sunny Isles Beach. Slightly farther inland but still close to the Miami center, Coral Gables is offering some good deals too.
But keep in mind that across the MacArthur Causeway, trendier Miami Beach still holds its cachet, especially for foreign buyers, whose exchange-rate-favored bank accounts can buy more and more by the day. As such, says market guru Guy Trusty of Lodging & Hospitality Realty, prime Miami Beach condos can fetch $1,000 per square foot, while in other parts of the city you can find new condos for $200 to $250 per square foot.
NEXT: Las Vegas
Last updated June 11 2008: 3:10 PM ET
Email
|
Print
|

Digg this story
|
RSS