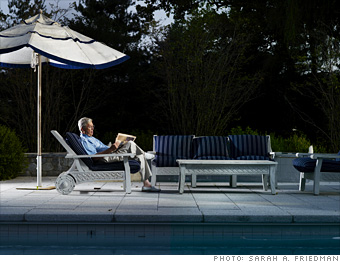 Cayne, photographed at his house in New Jersey, has investments in several hedge funds, including King Street Capital, Perry Capital, and Viking Global.
"That was a period of not seeing the light at the end of the tunnel. It was not knowing what to do. It's not being able to make a definitive decision one way or the other because I just couldn't tell you what was going to happen."
By the summer of 2007, Jimmy Cayne was out of his element. He was ill equipped to prevent the firm's toxic assets - exacerbated by the collapse of two highly leveraged mortgage-related hedge funds - from poisoning the company's balance sheet.
More galleries
Last updated August 04 2008: 10:37 AM ET
Email
|
Print
|

Digg this story
|
RSS