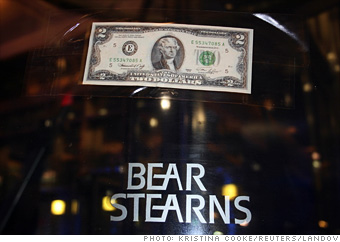 A two dollar bill is taped to the revolving door leading to the Bear Stearns headquarters after J.P. Morgan offered to buy Bear Stearns for $2 a share.
"But you can't play it. You can't play it. If anybody on Earth would have played it, it would have been me."
On Sunday morning, while the J.P. Morgan deal was being worked out, Cayne went out to breakfast at the Jackson Hole diner, at 91st Street and Madison Avenue, for a couple of eggs with Vincent Tese, the billionaire chairman of Wireless Cable International and the lead independent director on Bear's board. The two had a frank discussion about the ramifications of what Cayne called playing the "nuclear card" - threatening to file for bankruptcy.
NEXT: Approving the J.P. Morgan deal
Last updated August 04 2008: 10:37 AM ET
Email
|
Print
|

Digg this story
|
RSS