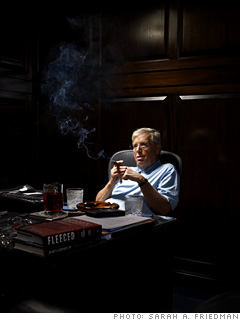 Cayne smoking a cigar at his desk in his New Jersey home.
"I'm saying, `Six million shares, I just got my butt kicked.'"
When Cayne returned to Bear's offices on March 15, after the infamous "run on the bank," he was told that the J.P. Morgan deal was in the works and would likely happen at $8 to $12 per share. (The price was lowered to $2 per share by Monday at the urging of Treasury Secretary Hank Paulson, then revised upward to $10.) Bear's demise cost Cayne about $1 billion.
NEXT: Marijuana
Last updated August 04 2008: 10:37 AM ET
Email
|
Print
|

Digg this story
|
RSS