The former Bear Stearns CEO speaks out for the first time since the firm's collapse, presenting his version of how things went wrong.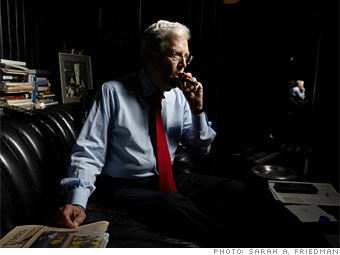 Cayne enjoys a cigar in what his wife calls the "womb room" in their New York City apartment.
"The options were limited. When you become roadkill, when you happen to have lost some weight and you're not really healthy, but you know one thing - you know that you have worked your ass off and you're not smart enough to know the answer - that's tough."
At the end of November 2007, Bear Stearns reported the first quarterly loss - of $854 million - in its history after taking a write-down of $1.9 billion on its rapidly deteriorating holdings of mortgage-backed securities and other debt obligations. The write-down shaved 7% off Bear's $12 billion book value. By December the CEO was tired of being a "piñata," so he told his handpicked board he was thinking of retiring.
NEXT: Bridge
Last updated August 04 2008: 10:37 AM ET
Email
|
Print
|

Digg this story
|
RSS