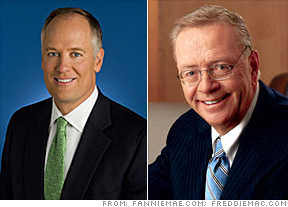 Mudd (left) and Syron came aboard at mid-decade to revive the mortgage giants after accounting scandals, but shareholders have lost billions and taxpayers are on the brink of a costly bailout.
Why they're miserable:
Years of pell-mell expansion and lax oversight have left Fannie and its smaller sibling, Freddie Mac, with a staggering $5 trillion in aggregate mortgage exposure, on less than $100 billion of capital. Not good, given the free fall of U.S. house prices over the past year and the associated rise in defaults, though Mudd earlier this year promised Fannie would "feast" on the reduced competiton in the mortgage market.
Why others are miserable:
Mudd and Syron have seen their shares plunge to 17-year lows in the past month, but that's just for starters. President Bush recently signed a housing rescue bill that critics such as Sen. Jim Bunning estimate could cost taxpayers as much as $1 trillion. The Congressional Budget Office, for its part, guesses there's a 50-50 chance a bailout can be avoided altogether.
What they make:
Mudd, $11.7 million; Syron, $18.3 million
What shareholders have lost:
Fannie, $52 billion (83%); Freddie, $36 billion (85%)
Misery Index:
Mudd, 95; Syron, 103
NEXT: Kerry Killinger, Washington Mutual
Last updated August 05 2008: 8:58 AM ET
Email
|
Print
|

Digg this story
|
RSS