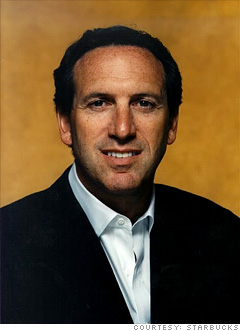 Schultz led Starbucks during its 1990s rise to riches and renown before stepping aside in 2000. He returned in January, promising to refocus the company and boost the floundering stock. But a turnaround has proven elusive.
Why he's miserable:
Schultz returned after overexpansion and customer service problems started to erode the value of his 4.4% stake in the company, which is worth $450 million. "The position we hold today in our customers' and partners' hearts and souls all around the world is not an entitlement," he said back on Jan. 7. But so far the news has only gotten worse, with Starbucks recently posting its first-ever quarterly loss and the stock falling to new lows.
Why others are miserable:
There's no doubting that Starbucks grew too fast in the U.S., but the cutbacks have been painful nonetheless. The company has set plans to cut 600 stores, eliminating thousands of jobs, and to sharply slow the pace of new store openings, both here and abroad.
What he makes:
$10.6 million
What shareholders have lost:
$8 billion (44%)
Misery Index:
55
NEXT: Jeff Immelt, General Electric
Last updated August 05 2008: 8:58 AM ET
Email
|
Print
|

Digg this story
|
RSS