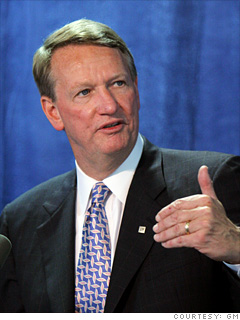 Three-point turn? Wagoner has been promising for years to whip GM into shape, but a weakening U.S. market has investors wondering if GM will run out of time.
Why he's miserable:
Wagoner led GM to big profits earlier this decade with aggressive financing deals and strong sales of trucks and SUVs. But spiking fuel prices have popped that balloon, and now GM is rushing to cut costs, slow its cash burn and finally make cars people want to buy. Wagoner, as always, says management has "the right plan for GM."
Why others are miserable:
Analysts expect to see the company raise more capital, even with shares having lost two-thirds of their value over the past year and the ratings agencies threatening further downgrades. Job cuts will reach well into the thousands - even assuming further restructurings aren't in the offing.
What he makes:
$14.4 million
What shareholders have lost:
$11.5 billion (65%)
Misery Index:
79
NEXT: Mel Karmazin, Sirius
Last updated August 05 2008: 8:58 AM ET
Email
|
Print
|

Digg this story
|
RSS