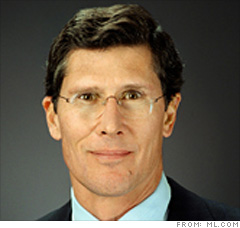 Reversal of fortune: Thain was brought in last December to bring clarity to Merrill's financial situation, but that's proved harder to do than the boss apparently thought.
Why he's miserable:
Thain has spent much of 2008 trying to soothe investors by claiming Merrill didn't need more capital. But he has had to repeatedly reverse himself as losses on bad mortgage bets have mounted. The writedown toll is now $40 billion, and Merrill recently sold a big chunk of its toxic security holdings for just 22 cents on the dollar. The hope is that will get Merrill headed in the right direction, "hope" being the operative word.
Why others are miserable:
Merrill raised billions in December by selling stock to Singaporean sovereign wealth fund Temasek and others. But like WaMu, Merrill agreed to pay investors if its shares fell and new capital needed to be raised. Making good on that promise last month cost Merrill $2.5 billion.
What he makes:
Thain made $17.3 million last year, largely reflecting a $15 million signing bonus.
What shareholders have lost:
$47 billion (66%). Bespoke Investment Group notes the company's recent market capitalization, at $25 billion, is less than the $30 billion in capital Merrill has raised.
Misery Index:
83
NEXT: Rick Wagoner, General Motors
Last updated August 05 2008: 8:58 AM ET
Email
|
Print
|

Digg this story
|
RSS