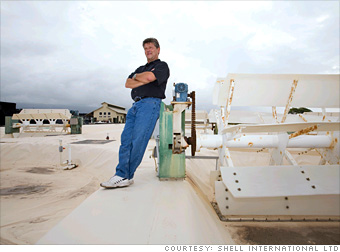 Mark Huntley, chief science and technology officer of Shell joint venture Cellana, stands next to a paddle wheel in a pond that will be used for growing marine algae.
Accountability rank: 10
Accountability score: 61.2
When crop-based biofuels such as ethanol began falling out of favor, Royal Dutch Shell, which is headquartered in the Netherlands, shifted gears toward the second generation of biofuels, quadrupling its R&D investments in new sources. One example: Shell partnered last December with a Hawaiian startup to produce a pilot facility for growing marine algae, which it hopes to convert into vegetable oil for use as fuel.
But Shell, No. 6 last year, also faces charges from environmental groups of greenwashing, or using shallow claims of sustainability to cover up eco-unfriendly operations. In August, the World Wildlife Fund UK issued a public complaint about a Shell ad; the oil company touted its investments in renewable energy, but the WWF pointed out that the refinery depicted in the ad did not actually contribute to the cause.

More galleries

Last updated November 14 2008: 9:01 AM ET
Email
|
Print
|

Digg this story
|
RSS