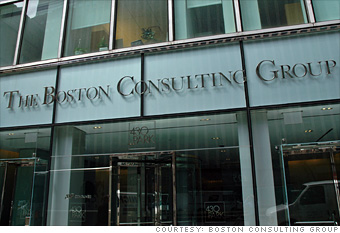 Average total pay: $141,111
For:
Consultant*
Best Companies rank: 3
Headquarters: Boston, MA
Employees at all levels are well-paid at this consulting firm. Executive assistants average nearly $65K, while consultants make more than $140K. And even employees who don't contribute to the profit-sharing retirement plan still get 15% of salary added each year, courtesy of the company.
But the rewards at Boston Consulting aren't purely financial. BCG considers itself an apprenticeship where senior consultants teach junior consultants and training is intensive at all levels. That's helpful, since the partnership track is well-defined: New consultants move to project leader in two-and-a-half years, to principal in two or three years, and to partner in three or four years. And if the firm's "up or out" practice leads a consultant to exit, he or she can always go back to school: 90% of BCG consultants who apply to MBA programs are accepted.
NEXT: Kimpton Hotels & Restaurants
Last updated February 05 2009: 1:03 PM ET
Email
|
Print
|

Digg this story
|
RSS
*Most common salaried job

An earlier version listed an incorrect pay number for Chesapeake Energy. The correct amount is $120,576, not $178,108, which moves Chesapeake from #7 among top payers to #24. The rankings have been adjusted accordingly.