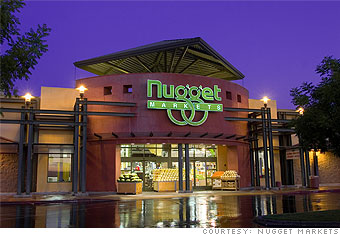 Average total pay: $116,444
For:
Store Director*
Best Companies rank: 10
Headquarters: Woodland, CA
Employees say they love working at this family-owned California grocery chain, because they're treated with respect, they have fun, and the policies are fair. All employees are called "associates." They look forward to end-of-the-year blasts. And they're paid 30 cents an hour above what competing stores pay, according to Nugget policy. Checkers earn $30,440 a year on average, topped by bonuses averaging $4,050.
Last year, Nugget gave raises to 223 employees at its discount Food 4 Less stores, so they're now paid the same rate they'd earn at its full-scale supermarkets. Result: Food 4 Less workers now make $2 an hour more than employees at similar stores.
Employees get 100% coverage of health insurance premiums, and as long as they work 92 hours a month, part-timers are eligible. No wonder just 9% of full-time employees choose to leave each year, a remarkably low rate for the grocery industry.
More galleries
Last updated February 05 2009: 1:03 PM ET
Email
|
Print
|

Digg this story
|
RSS
*Most common salaried job