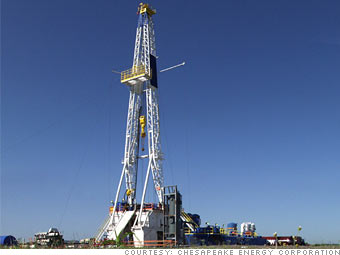 Average total pay: $120,576**
For:
Toolpusher*
Best Companies rank: 73
Headquarters: Oklahoma City, OK
Now the nation's largest producer of natural gas, Chesapeake took some tough hits last year. It paid a lot of money for leases when natural gas prices were high, and got stung in 2008 as prices plummeted.
Chesapeake stock swooned 80%. In an e-mail to all employees, founder Aubrey McClendon reminded them that Chesapeake has 36,000 wells producing natural gas every day and urged them to focus on cost control. As for the stock price, he said, "Over time it will take care of itself but in the meantime, just ignore it."
There were no layoffs. And the company awarded new stock grants in October, giving the 4,466 employees on staff in June a total of 373,975 restricted shares valued at $12.8 million.
NEXT: Nugget Market
Last updated February 05 2009: 1:03 PM ET
Email
|
Print
|

Digg this story
|
RSS
*Most common salaried job

**An earlier version listed an incorrect pay number for Chesapeake Energy. The correct amount is $120,576, not $178,108, which moves Chesapeake from #7 among top payers to #24. The rankings have been adjusted accordingly.